************************************************************************
*********************************************************************
SUPER CREEPY- I HATE THIS TECHNOLOGY AS IT IS ONE STEP CLOSER TO LOSING
HUMANITY AS WE KNOW IT!
*****************************************************************************************
MORE CLUES UNCOVERED TO WHAT LIFE REALLY WAS LIKE ON THIS EARTH
5000 YEARS AGO
Digger finds Neolithic tomb complex
Archaeologists on Orkney are investigating what is thought to be a 5,000-year-old tomb complex.
A local man stumbled on the site while using a mechanical digger for landscaping.
It appears to contain a central passageway and multiple chambers excavated from rock.
There is a large neolithic burial complex nearby called The Tomb of the Eagles where over 300 bodies were found.
"Potentially these skeletons could tell us so much about Neolithic people," said Orkney Islands Council archaeologist Julie Gibson.
"Not only in relation to their deaths, but their lives."
One end of the tomb was accidentally removed as it was discovered and as a result, the burial site has now been flooded.
Archaeologists are in a race against time to recover its contents before they are damaged or destroyed.
"There might also be other material, pottery or organics such as woven grass, buried in there - which cannot last under the circumstances," said Ms Gibson.
The rescue excavation is being undertaken by archaeologists from Orkney College and is sponsored by Orkney Islands Council and Historic Scotland.
The team are
posting daily video updates from the excavations
which are expected to take 10 days.
http://www.bbc.co.uk/news/science-environment-11656142
************************************************************
Disclose.tv
-
30,000+ year old Cave Drawings of our skys. Video
Ancient man recorded his daily life and memorable events on the walls of caves over 30,000 years ago. Although these caves are all over the planet they share many of the same drawings. They always draw animals, plants and people on the lower regions and birds, planets and stars on the upper area and ceilings.
*****************************************************************
***********************************************************
Why Do People Love to be Scared?
Every
Halloween
, Americans spend millions on scary fun. From haunted houses to horror movies, teens as well as adults seem to crave a good spine-chilling scare.
"People go to
horror films
because they want to be frightened, or they wouldn't do it twice," said Jeffrey Goldstein, editor of "Why We Watch: The Attractions of Violent Entertainment" (Oxford University Press, 1998) and professor of social and organizational psychology at the University of Utrecht in the Netherlands.
"You choose your entertainment because you want it to affect you. That's certainly true of people who go to entertainment products like horror films that have big effects. They want those effects," Goldstein told LiveScience, a sister site of Life's Little Mysteries.
Sinister, but safe, thrills
People enjoy feeling scared and seek the feeling out because, deep down, they know they are in no real danger, according to David Rudd, dean of the College of Social and Behavioral Science at the University of Utah.
They understand the real risk of these activities is marginal, and because of this underlying awareness, they experience
excitement rather than actual fear
, Rudd explained. This is why people enjoy going on terrifying amusement park rides and walking through a Halloween-themed haunted house.
Most adults and teenagers are able to realistically gauge the actual level of threat that scary stimuli pose to them, and, correspondingly, their safety level. For example, watching a horror movie poses no physical threat, with the minor psychological threat being that they
might have nightmares
as a result of seeing it. Therefore, most viewers feel safe watching such a film, and are excited by it, not truly afraid.
Terror tolerance scale
However, some adults and most young children are unable to correctly gauge a threat, perceiving it to be higher than it is.
"The experience of 'real' fear is when the appraisal of threat is greater than safety," Rudd told Life's Little Mysteries. "People that are afraid of flying appraise the threat of a crash in an unrealistic and disproportionate fashion, since it's actually safer than driving. As a result of the faulty appraisal, they experience fear."
This is why children become scared so much more easily than adults. Having less experience at gauging the safety of the
spooky things they see
, from a gory monster costume to a talking skeleton lawn decoration. A young child may perceive harmless Halloween fun as a serious threat to his or her safety, and become truly afraid.
"Adults have habituated to risk over time and are far better at appraisal," Rudd said. "Adults know it's just a movie; kids can forget that fact. It's really all about appraisal of risk - adults are much better than children. It's something we learn over time, its part of what we refer to as maturity."
http://news.yahoo.com/s/livescience/20101031/sc_livescience/whydopeoplelovetobescared
**********************************************************************
Some Truly Disgusting Dishes
Food, like so many things in life, is a matter of taste and acculturation. Despite this, at least to the palettes of the western world, some of the things people put in their mouths can be considered no less than disgusting. Consider some of the following mouth-unwatering specialties.
•
Deep Fried Tarantulas
In Cambodia, for 50 cents or less, protein is available in the form of ping (Cambodian for tarantula). The custom of eating these lovelies started during a time of widespread food shortage back in the 1970s, and ingesting one is said to render great beauty.
•
Balut (Soft-Boiled Fetal Duck)
For about 35 cents, if you live in the Philippines, you can enjoy a fertilized duck
egg
with an almost fully developed embryo inside. Boiled and eaten directly from the shell, this dish is considered to be high in protein and an aphrodisiac.
•
Tuna Fish Eyes
The fatty, jelly-like tissue around the eyeballs of a tuna fish is considered to be a great delicacy in Japan that costs about US $1. It can be eaten a number of ways: raw, steamed or fried with garlic or soya sauce.
•
Bird's Nest
The Chinese make soup out of this, and one bowl costs anywhere from
$30 to $100! Considered one of the most costly animal products consumed by humans, it is so expensive because the nests can only be harvested a few times per year.
•
Rooster Testicles
In Taiwan, rooster testicles are considered a good source of protein and they are either stir-fried or stewed. Their market price is unknown but they are prized as a natural substitute for Viagra.
•
Cow Urine
For about US $3 per bottle, if you live in India, you can buy this "health drink" that many Hindus believe has medicinal qualities. A sacred animal in India, urine from the cow is distilled before it is blended with traditional Indian herbs and medicinal plants. One brand,
Gauloka Peya
, is available in four flavors: orange, khus (fragrant grass), rose and lemon.
• Deep Fried Insects
Topping off the list of specialty foods is this protein-rich delicacy from Thailand, which costs about US $33 cents per scoop at vendors' stalls along the streets of Bangkok. Choices include: locusts, grasshoppers, cockroaches, ants and maggots, just to name a few.
http://www.weirdasianews.com/2010/10/31/disgusting-dishes/
******************************************************************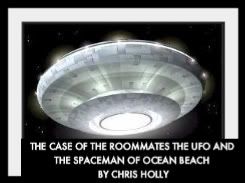 I received an email from a lovely woman who had a UFO sighting when she was living in Ocean Beach California. She was 18 years old at the time. The year was 1980. The women along with a roommate were living in an apartment in the San Diego area one block from the Ocean. Together they watched a UFO over Ocean Beach.
The woman told me that one foggy night along with her roommate she became compelled to get in her car and drive to a beach about a mile away from her apartment. This was odd, as they could have walked to a beach in about five minutes, as one was located right down the block from their apartment. They did not usually go out of their way to go to other beaches. They could not explain why but were driven to go to the beach a mile away that night. It was late in the evening for a beach visit and they really had no reason to want to go to a beach a car ride away however something compelled them to go.
It was not a beach night as dense fog covered the roads but the roommates were compelled so strongly they decided to get in the car and drive to the beach about a mile south of them.
The fog was so thick they could barely see 10 feet in front of the car. They continued on carefully crawling down the road to the beach parking lot they were drawn to. They parked the car and headed straight through the fog for the water. Once they got about 20 feet from the shoreline the fog broke exposing a crystal clear corridor that was approximately 150 yards wide by about one mile in length.

The girls heard a faint humming sound. They followed the sound looking up to see a UFO a few hundred feet above their heads. It was gliding smoothly moving parallel to the shoreline. They found themselves looking at a round iridescent looking craft. At this point they think is when they lost a bit of time. They seemed to have some confusion from the point of first seeing the craft to the point when they once again recall it moving over their heads. The woman does remember getting a very good look at the UFO as it moved across over their heads.
The next thing she remembers is watching the craft move away. About a half a mile down the shoreline it stopped for several seconds then it vanished in the thin air- almost, as if it disappeared into another dimension.

One of the really odd things about this experience was the point when the UFO stopped before vanishing. It stopped and hovered right next to the beach house owned by an elderly man nicknamed the

Spaceman

of OB (Ocean Beach). He was a retired artist, a painter who claimed to have contact with aliens and UFO'S.
The girls knew about the spaceman artist. Everyone in the area was familiar with him. They never thought much about him before however now found it very odd that they were seeing this craft so close to his bungalow on the beach.
The Spaceman Of Ocean Beach was an artist named Clint Cary. Clint was an excellent artist who pioneered painting with black light technique. He was known for his beautiful art pieces of alien cities and alien life. The Spaceman claimed he had been taken to other planets by alien beings where he was shown cities where the people of earth would be taken by beings of light to be saved from an earth-ending event.
Clint Cary lived and painted along Ocean Beach from the 50's until sometime in the early 90's before giving way to blindness and a lifetime of alcoholism.
The young women who had this sighting near this artist's bungalow decided to visit the artist the day after their sighting.

They did meet the man and did ask him if he had seen the craft they had the night before. He told them he had not seen anything and was not overly eager to talk to them about what they had seen over the beach near his cottage. The girls did get to see some of the Spaceman's artwork. The woman told me that his paintings of the space cities were extremely beautiful and without question one of a kind pieces of art.
This woman told me that she and her friend recalled seeing other people along the beach that were watching this UFO fly over the beach that night. She often wondered if anyone else has come forward who witnessed this sighting that night in 1980 at Ocean Beach California?
I was able to research that Clint Cary was indeed called the Spaceman of Ocean Beach. He was famous for his claims of alien contact and wonderful artwork of alien cities. The strange thing that I cannot find one image of any of his alien works of alien cities anywhere. I searched for a long time and only found later works of his but not one sample or copy of any of his extensive alien city pieces.

I found this sighting to be very interesting. The women involved will never forget that night or the UFO that seemed to lull them to the beach located along the same stretch of coastline that the Spaceman lived and painted scenes of places so extreme that those who viewed them never forgot them. I also found it odd that I was not able to find one of these paintings anywhere or in any article written about his man. It seems all his incredible paintings of alien life and cities are lost. I tried but found them impossible to find.
Finding information on the Spaceman and his claims of alien abduction has been very difficult. I found one article about the spaceman written by Mike James on the Out of Bounds site on the net. Mike James wrote the following about the spaceman:
During the summer of 1977, my brother Pat and I had our first encounter with the Spaceman of Ocean Beach. Artist and musician Clint Cary, The Spaceman, lived in a cottage at the entrance to the Ocean Beach Pier.
The Spaceman
claimed to have traveled to other planets, other dimensions. His otherworldly friends from the planet Rillispore transported him there. He first began his journeys in the late 50
'
s after first meeting the Rillosporians in the desert near Joshua Tree.
Later the Rillosporians would appear in his Ocean Beach bungalow to take him on these mini-vacations from our time and space.
As a painter, Clint was inspired by these journeys and created wonderful
"
cosmic art
"
masterpieces.
During our time with the Spaceman he gave us
"
Spaceman Cards
"
. They were to be our tickets to travel on a giant spaceship. We would be deposited on the 3rd dimensional planet Lycillus Apum. The relocation would save us from the cataclysmic destruction of earth when the magnetic poles would shift.
I think it is clear that all who came to know the Spaceman of Ocean Beach will not forget him- especially the women who encountered the unknown right in front of the Spaceman
'
s home!
We will never know what was going on along that area of coastline at Ocean Beach California during that period of time. I do know this woman and her friend will never forget their encounter with that UFO or the man and his art known as the Spaceman of Ocean Beach.