***********************************
another reason to be alert, aware and prepared !
Mississippi Delta earthquake: America's Haiti waiting to happen?

Scientists predict a Haiti-magnitude earthquake along the New Madrid fault during the next 50 years. The fault runs under the Mississippi Delta, one of the poorest parts of the US.

One of the strongest series of earthquakes ever to hit the United States happened not in Alaska or along California's San Andreas fault, but in southeast Missouri along the Mississippi River.

n 1811 and 1812, the New Madrid fault zone that zig zags through five states shook so violently that it shifted furniture in Washington, D.C., and rang church bells in Boston. The series of temblors changed the course of the Mississippi River near Memphis, and historical accounts claim the river even flowed backward briefly.
Geologists consider the New Madrid fault line a major seismic zone and predict that an earthquake roughly the magnitude of the
Haiti
earthquake (7.0 on the Richter scale) could occur in the area during the next 50 years.
That forecast is of particular concern because the New Madrid zone sits beneath one of the country's most economically distressed areas – the Delta. In many counties in the
Mississippi Delta
, the poverty level is triple the national average.
Moreover, the area is comparatively less prepared to deal with a huge earthquake than are other seismically active areas in the US, says
Mark Ghilarducci
, vice president of
James Lee
Witt Associates, a crisis and emergency management consulting company in Washington.
"There have not been enough resources applied for retrofitting that there could be," Mr. Ghilarducci says. "I would like to see far more retrofit programs, strengthening of buildings, especially masonry buildings, tying down bridges. That builds resiliency in a community."
Efforts to prepare
Neither the federal government nor local governments are unaware of the threat.
Numerous interstate task forces and coalitions have organized over the last decade to prepare for a castrophoric earthquake. Education programs focused on survival kits and family disaster planning occur yearly in states. Yet, experts say, few families have kits in their homes.
Last November, the
Obama administration
's Long Term Disaster Recovery Working Group held five stakeholder meetings around the country, including Memphis. They solicited input on how "to improve long-term disaster recovery with a particular focus on catastrophic disasters."
The meetings were co-chaired by
Homeland Security Secretary Janet Napolitano
and
Housing and Urban Development Secretary Shaun Donovan
.
The New Madrid fault zone crosses five state lines and the Mississippi River in at least three places. It extends from northeast
Arkansas
through southeast Missouri and into western
Tennessee
, western
Kentucky
, and southern
Illinois
.
In the 1800s, few people lived in the region. Today, it is densely populated and includes Memphis and
St. Louis
.
"All the faults are active," says
Haydar Al-Shukri
, director of
Arkansas Earthquake Center
. "We would see an earthquake 10 times larger than the Haitian earthquake or even those in California because of the amount of distance the seismic waves of the earthquake would travel."
Delta rife with poverty
Even with government efforts at preparation, much remains to be done, says Ghilarducci, the emergency management consultant.
In many areas, people still live in shanties. Healthcare is sparse. Even clean water is scarce in some places. Often, public and private buildings, are decades-old and fragile. They have yet to be retrofitted or strengthened. Hundreds of towns could see severe structural damage, and large segments of the population displaced, Dr. Al-Shukri says.
"You still have a lot of places with cinderblock structures," he adds. "That is the worst kind of structure you can build in a place with earthquakes. These concrete blocks are very stiff, and they do not have flexibility, so they can't yield to seismic vibrations."
The challenges are particularly daunting in rural areas. Given that federal dollars most often target metropolitan areas, people could be cut off from supplies for days. To help mitigate this threat, Memphis Light, Gas & Water was given a grant of $2.6 million to reduce the risk to its electrical grid from earthquakes.
"Disasters aren't entirely a government issue," Ghilarducci says. "If people live further out, they need to have something to be self-sufficient for a couple of days until help can reach them."
http://www.csmonitor.com/Science/2010/0117/Mississippi-Delta-earthquake-America-s-Haiti-waiting-to-happen/%28page%29/2
************************************************************************
Pointing to the past: Scientists sequence whole genome of 'Denisovan' caveman from fossilised finger bone in Siberian cave
Discovery could help understand evolution of modern humans

Extinct group our closest relatives along with Neanderthals

Genome sequenced at higher resolution than before

Genome 'more detailed' than most scans of present-day humans
By
Rob Waugh
Scientists have sequenced the genome of an extinct group of humans which spread around the world 100,000 years ago, using a small fragment of a human finger bone found in a cave in Siberia.
The new, high-resolution genome scan will allow scientists to study how present-day humans evolved from our ancestors.
It was sequenced from DNA extracted from a tiny sample - 10mg - of fossilised finger bone.
The entrance to Denisova cave in Siberia: The scientists sequenced the genome from 10mg of fossilised bone
Along with the Neanderthals, the Denisovans are the closest extinct relatives of modern humans.
'We hope that biologists will be able to use this genome to discover genetic changes that were important for the development of modern human culture and technology.These changes enabled modern humans to leave Africa and rapidly spread around the world, starting around 100,000 years ago' says Dr. Svante Pääbo of the Max Planck Institute.
The genome represents the first high-coverage, complete genome sequence of one of our ancestors.
Its creators describe it as 'a leap in the study of extinct forms of humans.'
The researchers had previously sequenced the genome at a lower resoulution using the fossil.
The earlier genome allowed researchers to find, for instance, that present-day inhabitants of New Guinea have 4.8 per cent Denisovan DNA.
This tooth, thought to have come from a five to seven-year-old child, was found in the same cave, and was the first evidence of the existence of Denisovans - now thought to be a crucial 'key' to tracing man's evolution
The new technique allowed the researchers to sequence every position in the Denisovan genome 30 times over, a far more detailed scan, according to a paper published in the journal PLoS One.
'The genome is of very high quality', says Dr. Matthias Meyer.
'We sequenced it so many times that it has fewer errors than most genomes from present-day humans.'
This level of resolution was sufficient to establish the relationship of Denisovans to Neandertals and present-day humans, but often made it impossible for researchers to study the evolution of specific parts of the genome.
The now-completed version of the genome allows even the small differences between the copies of genes that this individual inherited from its mother and father to be distinguished.
The Leipzig group has now made the entire Denisovan genome sequence available for the scientific community over the internet.
The genome is also expected to reveal new aspects of the history of Denisovans and Neandertals.
'We want to make it freely available to everybody already now' says Pääbo. 'We believe that many scientists will find it useful in their research'.
The finger bone was discovered by Professor Anatoly Derevianko and Professor Michail Shunkov from the Russian Academy of Sciences in 2008 during their excavations at Denisova Cave.
Human occupation at the site is thought to have started up to 280,000 years ago.
The finger bone was found in a layer which has been dated to between 50,000 and 30,000 years ago.
******************************************************************************
How sad this man has to relate this information via Hollywood references in order for society to understand it.. Makes me sad we are this way. This video will be very hard for many people to digest. It is however a large dose of truth however like it or not.
*******************************************************************************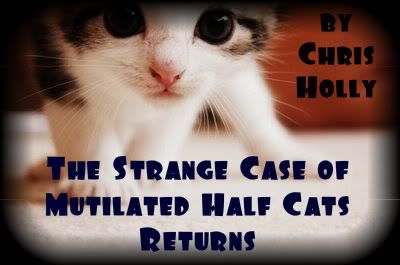 I first wrote about this odd subject back in 2008. I thought it was extremely strange at the time however since I had not heard any more about the strange half cat mutilations I thought they had stopped and our pets were not still suffering this awful fate.
Sadly I was wrong as once again I am being sent reports from all over the world reporting people are finding their beloved pet cats dead and cut in half.
The cats are left in what seems a purposeful fashion in a place that the owners could not miss them once they start to look for their family pet. This alone is a very odd element in the cat mutilations of the half cat dilemma.
The cats are all cut perfectly in half with the top half left for the family to find of the pets front paws and head while the bottom half of the cat is nowhere to be found. Again as in the cases reported years back the cats top potions are found bloodless and clean. They are left looking more like a cat hand puppet than a dead cat .
The people reporting this horrid find are all extremely upset not only from finding their little cat dead but by the fashion in which they were killed and left for the families to find them.
Recently I was sent emails from Canada, southern California , England and South Africa. I did a fast web search to find that this is an issue presently in Boulder Colorado when I came across this posting :
... expand investigation after another cat body found. Posted on26 January 2012. ... Police believe a dead cat found on Avenue H ... for killing and mutilating about a half dozen cats ...
bouldercityreview.com
/news/...after-another-
One of the emails sent to me came from Lisa in South Africa. She describes these horrible mutilations from the viewpoint of an owner who lost a cat in this fashion. Lisa wrote:
"Hi Holly

I read your article on cat mutilations and just wanted to let you know it's not just happening in one continent

Yesterday morning I got up to feed my cat just like I always do and let her out. About 4 hours later my husband looked out the window to find my cat cut in half and dumped in my garden.
We live in South Africa.

We thought maybe it was some sort of ritualistic African crap but after reading different things on the internet we realized it is going on all over and all very similar.


There was no blood around the body or in fact in the body. She was cut through her mid section underneath her front legs. We have no idea where the rest of her body is and no trace to who might have done this to her.

We live in an enclosed complex surrounded by electric fence so I have no doubt in my mind that it was someone living very close by especially as they put her body in my yard so they obviously knew she was my cat.


Poor little thing was only 4 months old and never bothered anyone. I just don't understand how people can be so cruel.

I want to raise awareness of the situation surrounding this animal cruelty and I wish with every breath I have that such things were punishable as if it were done to another human.

ANIMALS have feelings too! I cry when i think how scared my poor cat must have been to endure something so horrible and brutal and disgusting.

i wish people would understand that when you have animals you are suppose to love and protect them from everything that might harm them just like you do children.

I have 2 children and it scares me to think if they can do this to a animal, there is nothing stopping them doing to another person. Our Sylvia was not just my cat- she was like one of my children and it pains me to think that she is never coming home I can't even begin to express how sad I am that we lost her in such a horrific way!




I hope and pray one day there will be an explanation to this situation as loosing something you love in this way leaves only unanswered questions which really hurt when it is your cat.
.
We can only sit and wonder if it was done for personal kicks? Was it for voodoo medicine or some silly ritual? I could go on and on but now can only hope that one day people will understand that animals are just as important as humans and this is a horrible dangerous thing that is happening..
I know that cats are often targets of malicious humans and slaughtered for many reasons ranging from fun - to using them as a meat source and eating them.
I remembered when I was a child a demented young man in my town had built an entire cat torture camp deep in the dense woods. He would catch cats in the area and take them to this camp where he would torture the poor animals to death. When his camp was found the local police discovered hundreds of dead animals hanging from dozens of trees in this twisted bizarre camp.
Cats are eaten in many parts of the world the same as we eat chickens or pigs. I am aware that the world does not hold the same view on cats as pets with family member status that we do in western cultures.
The thing about these cat mutilations is that not only have they been going on for years in North America they happen all over the world in the same manner.
Sometimes both parts of the cat can be found but most common only one half of the cat can be located. The location of the found body half is usually clean of blood, which is odd considering the animals are cut perfectly in half which has to be a messy business. The cuts are perfectly done with clean precision which would need a very sharp cutting edge and a skilled hand.
The strangest thing about the cat mutilations is the neat skill of the incision that cuts the cat in half. It is not torn or ripped or shredded. The method of cutting the cats in half is clean and done with a surgeons skill.
This has been going on for years with many pet owners finding the gruesome remains of half of their cat found often in an area that made it impossible for them not to miss when the owners went looking for their missing pet.
The fact all the internal mess and blood that would happen during the slaughter of the cat is never found also is very odd. It appears the cats may be taken to another area and returned once they are prepared to be found for the owners in this strange puppet like half cat corpse. In the above email from the poor women in South Africa this horrible thing was done quickly as her cat was only missing for four hours.
I find these half cat mutilations extremely odd. The first thing that strikes me as being strange is that this has been going on for many years in different parts of the world.
Next of course is the nature of the mutilation. Why would anyone or group of people want to cut a cat perfectly in half? The more I think about this situation the more questions I come up with. Why would anyone take the time to make a perfect incision and take the effort and time to either remove or clean up most of the blood and mess that certainly is involved with cutting an animal in half? If it is being done elsewhere why do they return the clean half remains of the dead cats? Also why do they keep the other half?
I realize that cow mutilations have been going on and investigated for a very long time. I also realize that the cow mutilations have similarities to what is happening with the half cats. They both seem to be useless acts with the dead animals corpse left in areas visible for their human owners to find.
I truly have no answers to who what or why pet cats are been slaughtered in this manner and left to be found by their owners.
It cannot be one person who is doing this as I have had reports from all corners of the world concerning half cats being found . Maybe it is the hideous actions of a group or cult? Perhaps this is an act of initiation to a strange club or gang or cult? I imagine it could be that killing innocent animals may be considered some kind of badge of honor or request for entry to a cult or gang to prove some kind of twisted act of violence by way of attacking kitty cats and kittens. I find it childish , moronic and cowardly , but it could be a possibility.
It was suggested to me that this could be some sort of need by private companies or secret projects to provide them with organic material for biological programs they are working on. I have my doubts about that as wouldn't it be far easier to simply catch and keep the cats or empty the overcrowded animal shelters as a source for live animals. I doubt if this was the cause they would leave half of the animal to be found by the poor pet owners.
Can the half cat mutilation be some sort of step in some kind of large underground game being played out in secret by its players? Could this be some sorted thrill found in the deviant side of the erotic pleasure spectrum only a few partake in? I have had all of these things suggested but cannot figure out if any of these ideas are correct or even close to the base of why the cats are being slaughtered without reason- and left cut in half.
Of course more than one person has brought UFO and alien involvement to my attention as who may be mutilating and leaving the half cats. I would question the reasons they would leave the cat half to be found yet realize that we understand very little about visiting beings or why they abduct humans so must leave this as a open possibility with the cat half mutilations.
My opinion with this subject is one of confusion and questions. I know that this is going on. I just have no idea at all why or by who..
If you have found your cat sadly in this fashion please let us know. If you have an idea who or why this is happening please forward that information to us as well. Since this horrid activity is once again rearing its ugly head I think it is time we started to examine it with a bit more concern and interest. It is far too strange to go unanswered.
For me I am going to add a bit more thought and protection towards my own pets. It seems the longer one lives the stranger this world becomes.
♥ Copyright © 2008- 2012 Chris Holly all Rights Reserved
Chris Holly's Paranormal World- http://endlessjrny.blogspot.com/
Email chrisholly61@yahoo.com
*********************************************************************
FOLLOW LINK BELOW SO YOU DO
NOT MISS ANYTHING!
if you are visiting my site via a link from another site please click on the image below to view our entire site along with all our recent articles.
**************************************************************************