Read my reply to emails concerning this article below the article !
Living through the experience of Super Storm of the Century Sandy will stay with me forever. I have lived on Long Island in New York floating in the Atlantic Ocean for most of my life. I have been through many bad storms including Nor Easters, large snow storms and hurricanes. Being on an Island in any violent storm is a scary event; this storm however frightened me nearly to death. It was a strange storm unlike any other I have been in filled with odd events I cannot explain.
The first thing of course would be the size of the storm. It was enormous. The wind and flooding hit us long before the storm did. By the time the storm attacked us full on we were already in trouble from the amount of wind and ocean surge pushed towards us as the storm approached.
The storm was odd in its behavior.

It hit us in intervals or waves. Some refered to it as bands of rain or wind. The storm would hit and blast you for an interval of time with blowing rain and blasts of wind that would rip through an area leaving a path of devastation behind it. The blasts of wind would rip through an area destroying everything in its path leaving the surrounding area untouched. It was as if small cyclones would touch down devastating a path and disappear. It was very odd. It could completely destroy a group of trees or buildings yet five feet away things were left completely intact.

The problem was these strange wind actions were so numerous that whatever was caught in these ripping winds were torn apart and destroyed. My family owns a small cottage on the Long Island Sound that had trees launched through the front doors and windows like spears being thrown in a tribal war. Vertically they flew at immense speed right through the windows and doors leaving broken glass and wide holes with huge trees lying as they had been thrown by a giant at the house.
The strangest thing I witnessed along with my family took place while the storm was in full swing. We could not sleep or even rest during this storm. This was not a bunker down and sit it out type of an

event. This was a pay attention every second and be able to react quickly kind of storm.

My house would have burned to the ground if we were not watching carefully and paying attention to what was happening around us. One of those cyclone type wind gusts ripped the power lines in fact all services off of the side of my house as powerful

gust of wind

snapped

a group of large trees in pieces falling like bombs around our house. When the live electric wire hit the ground it started a fire. My family quickly put it out knowing we had no other choice. This storm was one you fought, not one you could sit out. Every moment it was active was one you hoped would not destroy your home.
During the storm strange lulls took place between the brutal wind and rain surges where things were silent and still. Similar to the eye of a hurricane but happening in timed intervals during the entire storm.

During these lulls everything went still and quiet when suddenly the entire sky would light up as if someone turned on a light switch in a dark room. It was not lightning as the entire sky would become a bright gray. This display of sudden light lasted a few seconds and on its own was extremely creepy. The strangest thing however had to be the sound that accompanied this odd display of light. As the light would go on and off lighting up the entire sky we heard a strange metal type sound- a sort of a moan underneath the light. I was terrified at this as I never heard anything like it before. As we sat silently listening to this odd event one of my family members said "It sounds like medieval trumpets announcing the king" We would have laughed however the situation was extreme and he was right and the entire encounter left us nervous and frankly stunned. This odd experience repeated about four times that day. Strange light followed by the sound of a monotone trumpet sounding low across the land. It was extremely creepy and unsettling.
Since the storm I have received two emails from other people in my area asking me about both the strange light and also the odd noise. I was relieved we were not the only ones to see or hear these odd occurrences I also realize that this storm was so furious and frightening most people did not have time to notice these strange events.
I could not get that trumpet sound out of my head and still hear it clearly when I think back to those moments terrified in the dark watching and hearing things I have never seen or heard before. I do not know why these things occurred with this storm.
I talked about this with the people around me who also watched the strange lit sky and heard the low muffled trumpet sound in an effort to figure out what it could have been. We discussed the fact that this was a new type of super storm that may now become a regular part of our weather system and these lights and sounds are Mother Nature's doing. The light and sounds may be part of this new kind of weather system. In that case the next place a storm like this hits these things will be witnessed by many.
We also discussed the possibility that mother earth was somehow omitting this sound for some reason due to the enormous size of this storm and extreme conditions that came with it. We talked about the full moon and tides playing a part as well as many other scenarios. We also considered the fact that this storm had HAARP components or activity and the strange light and odd sound came from that interaction. We do not know why this was part of this storm, I guess I just wanted to let you know it was without question part of this one.
The experience of Super Storm Sandy left me terrified, traumatized and feeling as if I was thrown into an Era of a new way of things that frankly I want no part of. Obviously I had no choice but to live it and try to learn from the experience. I do have one thing I can do and that is to write about it in hopes you will be prepared when a super storm comes your way.
I wish there was somewhere to go with all the strange events happening to us in rapid succession lately. I want answers to the events that seem to be happening daily that just go bye us without notice or care. This storm was a devastating killer. We need to understand what is happening and need to stop being so sheep like and numb and start to become stronger in our nature demanding answers to so many strange and potentially dangerous events, sightings and mystery's that surround us all.
A week after Super Storm Sandy my family and about 20 other people who were standing in our local Stop and Shop Grocery markets parking lot had an astonishing UFO sighting. I will write about that after Thanksgiving. For now I am going to be very Thankful for what my family and friends have and treasure what is important and try to remain wise enough to know the difference! My job this holiday is to bring one spiral sliced ham to sit with the Turkey and to bake two large pumpkin and three large cherry (my specialty) pies for

my families Thanksgiving event.
From my house to yours I wish you a very Happy Loved Filled Thanksgiving Holiday.
I have added a few videos I found of others who heard odd sounds during storm too below this article
http://endlessjrny.blogspot.com/2012/11/happy-thanksgiving-new-article-below.html
Notes from reaction of emails being sent about storm
** I have been getting emails about this article that are typical to the reaction of things unknown by the public. I want to make it clear to you all that this storm was not my first rodeo with disaster. I have lived through many other hurricanes as well as huge storms all over the world. I know what takes place in hurricanes and realize exactly how bad big nasty storms can be. What I am trying hard to do is warn you that THIS storm was not your grand mommas storm and this storm was without question completely different then anything we here on earth are use to dealing with. We did not see lightning. We saw the entire sky for as far as you could see turn bright and stay that way before simply turning off. It was not a flash or in any manner a form of lightning that we are use to seeing on this planet. The noise we heard of trumpets blowing was not the wind or any other sound we ever heard before. It was something odd and in my mind something I think you should all consider as dangerous and part of a new way of things that could be part of a new dangerous part of living on this planet. I realize it is much easier to simply wave it away and think it was just a big storm and she is stupid yada yada yada. You may take this route and go back to life not having to give this much thought however know I have done my job by warning whoever will listen that a new monster is in town and built to destroy and may one day be pointed at your neck of the woods.. This was not a natural storm - this storm was a killer.
*******************************************************************************
I was sent this email concerning the above article. Please read this mans message and my reply:
Dear Chris
Sorry for your hurricane losses. We here on Padre Island on the Texas Gulf Coast feel for you, being a storm target ourselves for six months of the year.
But during Sandy, the national news showed many transformers there exploding in flashes of light, presumably followed shortly after by explosion sounds. Could your lights and trumpets have such a mundane cause? Or were they qualitatively different?
Best of luck on your recovery.
I sent this reply to help him understand what we experienced :
Our transformers blow all the time on Long Island, Our old power system struggles as do all old things I suppose. I fully understand what takes place when transformers blow and will tell you what we experienced had nothing at all to do with transformers.
. This was an enormous event where the entire sky turned bright silver as far as you could see. . The trumpet sounds were terrifying and unlike anything we have ever heard before in our lives during any type of circumstance. It was incredulous .
Other people also thought as you did.and sent me similar emails trying to fit our experience in to one they could understand and not be concerned about. I understand this need however I am afraid this time I have to continue to warn you that this was not your normal storm and we need to be ready for what ever else may be coming our way on this planet.
I see I failed in getting across this amazing event if people think I was talking about a common thing like a transformer blowing out. I wish I could ease all of your minds and say it was however this experience will live with my family and I forever. This event will last with me for the rest of my life as one of the mystery's surrounding us all in this new era of 2012.
Chris Holly
♥ Copyright ©- 2012 Chris Holly all Rights Reserved
Chris Holly's Paranormal World- http://endlessjrny.blogspot.com/
Email chrisholly61@yahoo.com phone 631-877-4818
***************************************************************************************************
***************************************************************************** **************************************************************************
********************************************************************************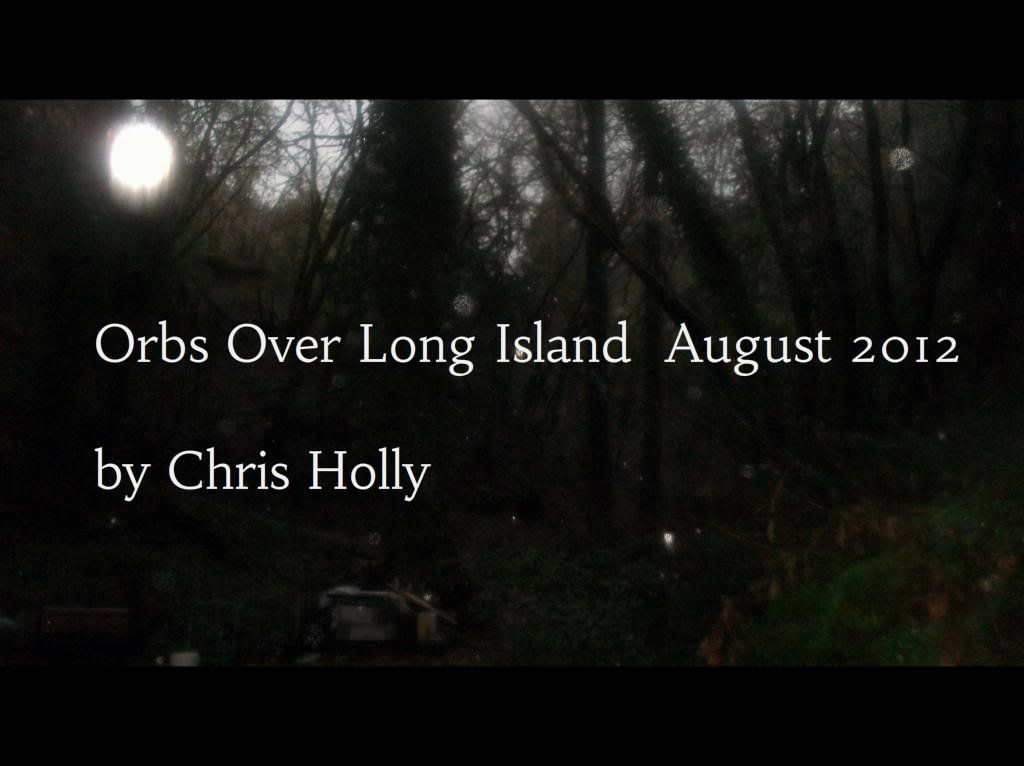 .My family and I are still on our summer's vacation however I felt it important to report the fact that I am being sent reports from those living along the South Shore of Long Island concerning strange lights, objects and Orbs. I was sent an email by a man who reported yet another strange sighting of an unidentified object along the South Shore of Long Island New York that I felt should be shared right away.
Obviously Long Island once again seems to be a hot bed for this type of activity. I think that Long Island is a small land mass hanging out in to the Atlantic Ocean that is a connecting point from the open sea to land which makes it a vantage point to see the coming and going of what may be coming out of or flying over the great Atlantic Ocean.

As far back as I can remember UFO sightings have been reported by Long Islanders. Many strange lights and objects have been seen along the South Shore of the Island facing the Atlantic Ocean.
The most recent report was sent to me a few days ago during the first week of August. It came from a young man who is located around the mid-point of Long Island close to the Islip Township.
The man wrote and told me this sighting of an Orb was seen by a group of men (about 6), who were standing in an open area talking. It was night time and they were in a parking lot type area surrounded by a small tree line.
Suddenly, the group of men noticed a very bright large Orb floating above them. It was silent and hovering. It would move above the tree line about 30 feet above telephone pole height. The strange Orb hovered and maneuvered above them standing in the lot and the trees lining the lot . It seemed to watch them before it simply disappeared right in front of their eyes. It was there and bam, it was gone.
The group of men did not know nor had they ever seen anything like this Orb before. They are not people who are interested in things of this nature and were shaken by being invaded by the strange object. The men tried to figure out what they had just seen and tried hard to reason out what it could have been. A few wanted to chalk it up to a balloon or toy controlled by someone playing a trick, others had similar ideas, all of them realized they had just witnessed something they had never seen before. Three of the men felt they had seen something unknown which is why they wrote to me and explained what they had witnessed. The group of men where shaken and frightened by the odd event.
I think this group of men is now among the millions of other people who have had an encounter with the unexplained. Orbs that are being reported at an alarming rate all over the world. At this point I remain confused and concerned about the Orb dilemma. I experienced firsthand an experience with a Red Orb during the 1970's that had a huge impact on my life. I understand Orbs can be harmful and dangerous and try to warn those seeing them to stay away from them if they see one.
If you do find an Orb watching you immediately seek safety and other people

to protect from being taken or harmed by this strange object. I do believe they are objects that watch us and collect data about us however I truly believe they are capable of more. I think the group of men reporting this recent Orb sighting is lucky it left them quickly. I think it was sizing up the idea of taking or somehow making contact with them. The fact there was five or six of them along with the fact they were located near other human activity and lights at the time saved them from this fate.
Please be aware people are seeing and dealing with strange things daily. It is only a matter of time that one day you may find you are the next one to be alone looking into the cold dark eyes of the unknown. Put down your cell phones and hand held gadgets that control your attention and maybe purposely have been

placed in societies

hands to make us vulnerable, distracted and controlled by things we could never dream of . Who knows what lurks out there. Pay attention to what goes on around you as you never know when it will be your turn!

Do not be the one who walked into the trap and finds they are alone and lost to the unknown.
♥
Copyright © 2008-2012 Chris Holly's Paranormal World http://endlessjrny.blogspot.com/
email chrishollyufo@yahoo.com phone 631-877-4818
***********************************************************************
IF YOU ARE VISITING FROM ANOTHER LINK PLEASE CLICK BELOW TO BE TAKEN TO OUR MAIN PAGE SO CAN READ OUR SITE IN FULL



*********************************************************************
Update to My Readers
My spouse has an opportunity to work in Europe for the next two months. It is something we are thrilled about as it will extend our summer's vacation to the beginning of November
I will be spending my time visiting the different places we are heading to and hopefully finding new and interesting things to write about.
I will not be posting daily on my blog but will continue to post new articles that I plan to write during my time away.
We have had a very interesting summer and hope our travels will continue to be a wonderful adventure for us.
I hope you continue to visit now and again to read my new postings. I want to thank you for being loyal readers as well as the real people who send me incredible encounters of extraordinary events.
I will continue working on the completion of my book which is full of the events of everyday people like you experiencing amazing sightings or experiences.
While I am busy visiting ' across the pond ' as well as writing the articles told to me by people like you please continue to be careful out there and always pay attention to your surroundings.
.********************************************************************************
IF YOU ARE VISITING FROM ANOTHER LINK PLEASE CLICK BELOW TO BE TAKEN TO OUR MAIN PAGE SO CAN READ OUR SITE IN FULL



************************************************************************
Recently we issued a warning for those who plan on spending time outdoors this summer. It was a warning about what can happen when someone sights a UFO, especially one in close proximity. Since that warning, Chris Holly has received a new report from one of the Real Time Abductees that should reinforce our warnings about close encounters with UFOs. Chris has written extensively about the Real Time Abductees, people who have suffered a lifetime of abductions.
The term real time refers to the fact the abductions of these people take place during real time while they are going about the business and routines of their everyday life . They do not involve sleep events or dreams or telepathic messages. They are encounters that invade their life while they are fully awake and functioning .
The Real Time Abductees have suffered abductions while going about their daily routines, often within shouting distance of other people. Recently, the son of one of the oldest of the Real Time Abductees surprised his mother with the admission that he has experienced abductions. He had never told her because of the distress he knew it would cause. The son has recently suffered another incident in the California desert that we will write about in a future report. But today we turn our attention to another Real Time Abductee who had her last abduction experience twenty years ago. That is, it was her last abduction experience before an incident a few weeks ago that, coupled with the information from the Real Time Abductee's son, has the Real Time Abductees in turmoil.
Chris Holly put me in email contact with the Real Time Abductee who suffered this latest episode, and in keeping with Chris's longstanding rules, the lady in question remains anonymous. I do not know her name, address, phone number or email address. She is known to Chris, but not to me. This is to protect the Real Time Abductees, of which Chris Holly is a member, and anyone else who contacts Chris reporting their abduction experience or experiences. The same anonymity is offered to anyone reporting other incidents of unexplainable occurrences, from UFO sightings to ghost encounters.
All I know about this Real Time Abductee is that she resides on property that is oceanfront or near the ocean. That factors into the incident which took place about two weeks ago. And, like the other Real Time Abductees, she knows to never go anywhere, day or night, by herself. She surrounds herself with family and other people she trusts in hopes her abductors will be wary of attempting another abduction. For twenty years, that arrangement seems to have worked. In fact, the arrangement would probably have still worked if the abductee hadn't broken a key rule: Never go anywhere alone.
What follows is the Real Time Abductee's tale :
"My brother-in-law lives down the road from me and called on the day of the incident to ask if his dog wandered over to my house. His golden retriever, a male dog, does that from time to time. I looked around and didn't spot his dog anywhere on my property. While I was looking around I walked past my son's truck parked next to the barn. I saw the key was in the ignition and made the foolish split second decision to jump in the truck and take a fast drive down an old beach road that ends at an area where I've found the dog before. He seems to love this isolated area of the beach, only about a minute's drive from my barn.
"I guess twenty years without an abduction incident had made me complacent. So I took off to look for the dog.
"My instincts about the whereabouts of my brother-in-law's pet were better than my instincts about abduction prevention, because I discovered the dog happily chewing on something he found along the shoreline. He was soaked, covered with sand and having a great time. I got out of the truck, opened the tailgate and called him. I tried to let him know by the way I spoke that he had misbehaved. I guess he got the message, because he just looked at me with that wide-eyed 'just got caught with my pants down look' some dogs get when they know they've messed up. I walked to the front of the truck and about 10 feet onto the beach itself and called him again without that 'bad dog' tone to my voice. This time he jumped up, wagging his tail happily, and came running toward me.
"As best I can recall, this is when the abduction event began, for suddenly, in the blink of an eye, a funny feeling came over me, and I heard what sounded like a huge Harley Davidson motorcycle revving up right next to my head. It was deafeningly loud. There was no one on the road. Nothing had approached me while I stood there calling the dog. But there in my ear, as if it was right next to me, a thunderous noise commenced as quickly as you could snap your fingers.
"I was filled with a paralyzing fear, knowing I had made a terrible mistake. I started to turn my head and shoulders slowly away from the approaching dog towards the sound...and that's all I can remember of how the incident began.
[Editors' note: Here are some further descriptions of what happened at the beach recalled by the abductee in a follow-up contact:
"I also recall a strange creature running toward me on the beach. It looked like a big triangle about the size of a trash can lid. It had a mouth and eyes at the pointed end, four stick-like legs and hair or fur that looked like long beach grass on its back. I think it was greenish in color and had neon green eyes. I have no idea if it was a living creature or a machine. I recall trying to get away from it and the dog barking at it. It's all pieces of memory that are disjointed and confusing. I also just know somehow this was the last of it for me. I don't think I will be taken again. I also feel these beings want me to try to make people understand they exist and our viewpoint on all of these things is going in a wrong direction. My feeling is these beings, whatever they may be or wherever they may come from, don't approve of the ridiculous sideshow our civilization has made of their attempts to slowly indoctrinate us about them and others like them."
"The next thing I knew I was laying on my back on the sand with the dog lying next to me. My first thought was that I had fainted, and the dog had fallen asleep next to me. I thought I was all right. One of my shoes had fallen off. I stuck it back on and got up. As soon as I did I vomited. I felt very weak and dizzy. Then I realized the dog was just lying there looking at me. He appeared to be dazed and was glassy-eyed.
"When the vomiting stopped I tried to get the dog to stand up. But he just remained lying on the sand like a limp rag. He's a big dog, and I wasn't able to lift him. I desperately wanted to get myself and this poor pet to the truck and get us out of there as fast as possible. I was feeling really sick, so I decided to drag the dog over the sand to the truck. Fortunately I was able to drag him to the back of the truck where the tailgate was already open. I gave it all I had and half lifted, half dragged the poor animal onto the bed of the truck. He just landed in the truck bed with a thump, bewildered and confused looking, and lay staring at me.
"Despite being disoriented and nauseated, I was able to drive home. There I found my frantic family madly searching the area for me and the truck I borrowed. I quickly told them about the beach and the noise while they helped me shakily navigate from the driveway back into my house. My brother-in-law kept the dog in my son's truck, driving him immediately to the vet because he was acting so weird.
"Once my family got me inside, I was able to inspect myself a little better. I found my sneakers had been left untied and my socks turned around so the heel of each sock was over each instep. The rest of my clothes seemed to be on properly; however, I had a gemstone ring on my right hand and a charm bracelet on my right wrist when I went looking for the dog. Both were now missing. But I also had a large diamond ring and a very expensive watch on my left hand and wrist. Neither one of these items appeared to have been touched.
"My body was very sore, my head hurt and I was confused. I couldn't remember clearly what had happened. I've never had an experience like this one, starting with that loud motorcycle sound. I thought the entire event happened within the span of just a few minutes, but a reconstruction of the time my brother-in-law first called about the dog to when I returned home revealed it was an hour and 25 minutes since I left my house. My brother who is a medical doctor was one of the family members out looking for me when I returned and insisted he should examine me. My blood pressure was a bit high, I had a slight fever and my blood sugar was elevated. My brother thought my body was dealing with a degree of shock. He also thought I was dehydrated and started me drinking water immediately. My family decided to take me to the emergency room where I could be hooked to a heart monitor and blood work could be done. It also allowed for a more complete examination to make sure I didn't suffer previously undetected injuries, internally or externally, during whatever had happened on the beach. Two doctors tested to make certain my heart was sound and ruled out any other possible cause of what they were told was a fainting spell or blackout. It certainly wouldn't have served any purpose to tell them I had been abducted by creatures unknown! I had been down that route before. Under my brother's prompting, the physicians saw to it a complete round of blood work was conducted as well. It appeared I was all right except for some noticeable problems with my eyesight. My vision was very blurry, and the lights in the hospital were painful to my eyes.
"When my family brought me home from the emergency room, I was totally exhausted, extremely weak and badly in need of sleep. I was surrounded by my family and spent the rest of that day in my bed sleeping. My sleep was uneasy, and I tossed and turned most of the time. This experience was unlike any of the other times I suffered an abduction. I never was able to recall much from my other encounters, but this time I began having flashes of uncontrollable recall that kept flooding my mind. I could recall "people" around me who were talking to me the entire time. I was being told how disappointed they were with the human race and our failure to reach out for knowledge. I remember being told we are a species that learns more slowly than others and would still be extremely primitive if we were not constantly pushed to advance. I had a hard time keeping up with what was being said because the communication was very fast and I was overwhelmed by it. I couldn't comprehend a lot of it. I do remember these beings indicating they were frustrated by our failure to grasp their attempts to slowly indoctrinate the human race to something they are apparently trying to show us. And I felt their anger and annoyance was aimed at our constantly rejecting their attempts, as evidenced, as far they are concerned, by our movies and fake photos and videos. They projected the feeling that humanity's rejection of what they seem to have been slowly trying to introduce us to has them harboring some growing negative feelings about mankind. I can't tell if they were expressing anger, frustration, pity, confusion, or a combination of all those things. But I did get the impression their reactions were the result of what they feel is humanity's willful ignorance, like we deliberately refuse to see some universal truth they've been putting in front of us. I still don't feel like I've fully grasped what they were trying to put across during the encounter other than that it was negative toward our actions. I can recall some kind of focus on my age. I also got the feeling they were trying to impress on me that this was going to be the last experience I would have with them. And I was left with the impression I'm being allowed to recall as much as I've been able to pass along to you for the express purpose of getting their still puzzling message across. Other incidents like this have always left me with very little in the way of memory.
"While all this was going on, I wanted to get away from them but was being physically restrained like all the other times. I kept begging them to let me leave. I recall the beings restraining me had human-like form, but I also recall a horrible looking being near me that frightened me nearly to death. I was screaming and struggling, and they gave me something to remove my fear and make me calm down. I remember being very thirsty and sick to my stomach. I had stomach cramps. The human type beings around me controlled me with an invisible strength, making it impossible for me to function physically. I only remember very brief flashes of the horrific creature that frightened me. I think my seeing it only lasted for a second or so. I'm not sure.
"I'm worried about people thinking this is something fun and fabulous, and I hope one day we'll grow up as a civilization and begin to understand and deal with these beings that watch us, visit us and take us against our will. As it stands, it appears we're the fools for poking fun at these incidents, and they're the ones doing all the laughing."
[Editors' note: The following comments from the abductee are taken from more follow-up contacts via email.]
"I feel like I have the flu and my eyes really hurt. I developed large painful pimples on my face. I also found a circle of hair had been cut out of the back of my head. I have long hair and can cover the bald spot, but I can't explain why this hair sample was taken. I found out that I'm a bit anemic, too, which is very odd considering I had my yearly physical a few weeks before the incident and was normal at the time. I must have lost some blood somewhere along the way but have no memory of it. At first, a few odd marks on my skin were my only outward signs of the encounter on the beach. But now a leathery and scale-like rash has begun to appear between my breasts, rising toward my neck, and on my legs and hands, as well as in patches on my back.
"I'm still shaken up and withdrawn. I really didn't think at my age that this would happen to me again. My family is annoyed that I broke the golden rule and took off alone to an isolated area. I feel strange. My thinking is very rapid, and my dreams are extremely odd. I'm still very weak and will need time to recover from this encounter just like I have from all the others I had forced on me ever since I was a little girl. The worst part of this is how easily they can walk into your life and take you at will. Dealing with the draining physical aftermath is exhausting. And knowing almost everyone refuses to believe this happens to people like me all the time is heart breaking. No matter how my family tries to protect and take care of me, no matter how we Real Time Abductees have offered support to each other, the truth of the matter is that each one of us is really all alone in the middle of this mess.
"I only pray people everywhere will soon rise to a new level of understanding, becoming more than what they have been, and start to wise up to how lost we are when it comes to so many things these abductors think we really should already know. When you think about the massive number of reports of UFO sightings and alien abductions from all over the world, you would think we would be smarter about all of this. Instead we match the real encounters by creating fake ones in larger numbers, leaving the real experiences swallowed up by our self created ignorance and delusion. I don't have any idea what it will take to turn us into more than the backward beings these abductors consider the stupid ones in the universe. Maybe it will remain this way, and, eventually, these beings who seem to be trying to nudge us out of our ignorance will simply give up and leave us to our own brain dead way of life.
"The last time I had an incident I was 40 and it was in the fall. That was in 1991. I don't recall much about the beings from other incidents except that they seemed to be in human form and covered in a light colored suit. This latest incident is the only time I remember more. This time they were without question covered in a skin-like suit with lenses over their eyes. It's for protection from us and our atmosphere, I assume. They are thin, about 6ft tall and have very long, delicate hands. You can see eye movement behind the dark lenses over their eyes. I think they come in different types, like male and female in humans, but I have no idea if there are separate sexes, or anything like sex, at all. They could be some other mix. The one that I can recall the most appeared to be the boss and seemed feminine to me. It quickly got that frightening creature away from my view. I recall that thing wanted to touch me, and it was told no. I felt like I was in a UFO garage-type of thing, meaning a structure attached to something at the back of it with two sides and an open end like a garage with the door open that I could feel air and see sky when I looked that way. I was sitting on something and could not see the wall behind me but could see the wall in front of me. That is when I saw that the wall and all around it, including these people or beings, all were the same color of a light gray or off white so that when they were working along the wall they were camouflaged and you could not see them. Only when they moved around could you make out the outline of beings there. They were sort of lit, or had an aura to them. I have no recall of anything like this before. The frightening creature was disgusting with a bug like head and appendages around its body. It was huge and wide and horrible. It had a bug face with a bunch of eyes. I do not know of any Real Time Abductee who ever had as clear a look as I had this time at what these things are like. I wish I did not remember it."
This real time abductee is spending time trying to recover from her latest encounter with these unknown beings. She is hopeful this is the last time she will be taken and feels due to her age she may now be able to finally live the rest of her life without these intrusions from those who take her, abuse her and throw her back like a lab rat.
Editors' note: It shouldn't take more than this report and the constant ongoing UFO sighting reports to make you think sensibly about what to do when you have the urge to venture out into nature's sparsely populated realms this summer. Be alert. Be careful. Always hike, hunt, camp, fish, sail or just mosey through the less populated places on the planet with a companion or two. And keep your wits about you if you come eyeball to eyeball with the unknown.

Rick Stokes
♥ Copyright © 2012 Chris Holly all Rights Reserved
Chris Holly's Paranormal World-

http://endlessjrny.blogspot.com/


Email chrisholly61@yahoo.com Phone: 631-887-4818
***********************************************************************
Reptiles Can Build Spaceships too !

I have read only a few postings on the internet concerning the idea that our cosmic neighbors may be highly intelligent creatures equal at least to humans. Among the postings I was able to find I came across many viewpoints of the condescending approach insulting the readers for the very idea of contemplating such a ridiculous idea. One article actually went to extreme limits by suggesting it impossible to think any creature of the dinosaur origin would not be able to build or fly UFO's with their huge bodies and tiny little claw like arms. I thought that remark was as possible as any human being that stunted intellectually to make such a ridiculous comment. Not only is that insulting it is simply insulting to think that people are that incapable of thinking past the idiotic remarks made in the posting.
If we developed as we have along the chain of life on earth wouldn't it be probable if not logical that life forms could have developed from their natural surroundings in a manner that worked in another type of environment? If we developed in body structure to a state that was conducive for continued development of our species why would anyone thing that the same thing is not happening in the Universe in different ways in different environments?
One thing that seems to be clear about mankind is that we seem to be stuck in very tight boxes that clamps down hard when new thinking is required in order to advance. We tend to think that since our primitive knowledge does not have answers we should laugh off what we do not know and block out advancement.
There is no reason not to think that there may be many complex different intelligent life forms spread out across our entire Universe. I will not even bring up the idea of dimensional life or other related thinking as I would not want those who close their minds to growth and cling to the primitive understanding of the very space we live and float in. After all I do not want to be responsible for anyone's little head exploding!
Below find a few interesting videos and for the love of science and truth keep your mind fully awake and open for what maybe incoming information as the closed tight approach has kept us blind and in the dark with all things considered unknown
http://endlessjrny.blogspot.com/2012/05/reptile-aliens-and-new-mayan-thinking.html
**********************************************************************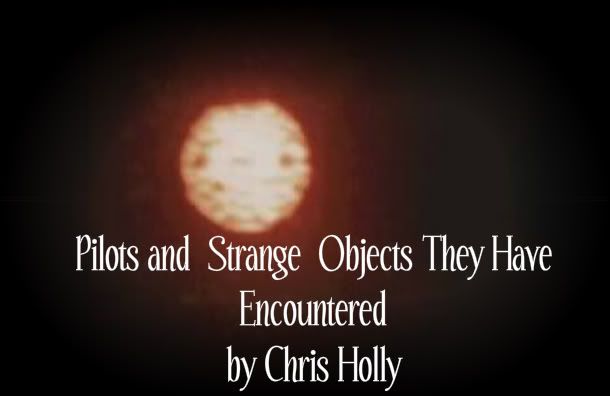 I have three close friends who happen to be pilots.
Over the years I never found the right time to ask them if they had ever seen anything unknown during their years of flying. This summer I decided to change that and went out of my way to find time to talk alone with each of them.
It was long overdue for me to ask my friends if any of them ever encountered something they considered strange or unknown while flying. I did not anticipate much of a response as I have known the three men I am writing about for many years and not one of them ever mentioned anything at all along the lines of unknown crafts or objects.
I thought it would have come up in conversation over the years if any of them had seen something they could not explain so did not think I would get much of a response to my questions . However I did want to ask each one of them to satisfy my own curiosity once and for all.
Obviously I was wrong and my pilot pals had seen strange things during their years of flying.
The first man I spoke with was a pilot for a very large corporation in Canada. After ending his career with the military he became a pilot for this corporation flying a private jet across North America to transport the executives in the company.
He told me that occasionally he and his crew would have to fly empty back across Canada in order to pick up a new group of passengers to transport across the continent. He told me when they did this he would fly high and fast to make up time.
During one of these trips, in the early 1990s , over the wilderness portion of Canada he and his co-pilot and two other crew members noticed a group of strange lights keeping pace with them . When they first noticed the lights they were far away from them but at the same altitude and speed.
The lights kept their distance for about 20 minutes before closing the distance between them. Within seconds they were close enough so they could make out the defined shape of an enormous rectangle shaped ship speeding along next to them at a distance of about a half a mile. The pilot radioed to find out if the strange object was being picked up by radar. At first he was told yes and then told it was not.
The crew of the private jet could not determine what this strange enormous craft could be and decided it best to drop in altitude to try to avoid any further contact with the unknown object.
The pilot changed course and became frightened as the craft also followed his changes.
Again the jet requested to change course and again they were followed. The pilot then requested to land at a nearby airport and not continue on with his flight.
The pilot and crew prepared to change course for a third time to ready for a landing. Finally the huge craft changed its course and headed upwards away from the jet at an enormous speed .
The crew landed the private jet shaken and confused on what it was that was following them over the wilderness of Canada.
Of course nothing came of the incident other than the fact my pilot friend did all he could to not fly that path again during his career. He told me did not want to chance another encounter with something he did not understand that could out maneuver with extreme speed anything he had ever seen before.
I thought his encounter was very interesting but I must admit I am not at all surprised this sighting took place over the Canadian wilderness. I think there are many strange things that find a haven in the wilderness of Canada. It could be a place where a base or gathering area is located for unknown crafts. So much area in the Canadian wilderness is without population yet located close to the large population of the United States and the Canadian borders where most of Canada's population is located. Using this wilderness would be a perfect destination for those who wish to visit us without being seen. Especially large crafts that have the ability to fly high and fast. They could come in and out of our planet via the protection of the wilderness as well as fly high and fast to avoid most air traffic.
The second friend I talked to was a Capt in the Air Force who flew bombing missions over Vietnam in the mid 1960s. He flew many missions during his military service giving him many hours in the sky.
I did not think he would have much to say on this subject as he is a very black and white kind of man without any room for fantasy or abstracts. I was a bit nervous to even bring up the subject knowing how he thinks and reacts to life.
During the summer I found myself sitting alone with my friend on the beach. We were talking about our families and life when I decided to just go for it and ask him if he had ever seen anything unusual while flying in the military.
My friend shocked me by quickly responding :
"You mean like UFO,s and stuff like that ?" Oh hell yeah, they followed us all the damn time".
He then told me that it was not common but not unusual at all for the pilots who flew the missions at that time to be followed or escorted by objects that were part of the military or any craft they had ever seen before. He told me he had a few very plain gun metal oval shaped objects about the size of a school bus fly along side of or above him as he flew in and out of battle. He told me they never stayed long or approached too closely and were only seen for a few minutes at a time. He said he tried , as did the other pilots who saw them , to get away from them as they did not know what they were. He also told me they were very fast and could climb , turn and dive unlike anything we had that he knew of at the time.
I found it stunning that this particular friend was so matter of fact about something I found to be so extra ordinary. I asked him if he reported it and he simply laughed and said , " Hell no we all wanted to stay flying, so we just never mentioned it and neither did the military - it was just part of the job".
It shows that even in the mid 1960,s the code of silence already was strong as far as the subject of UFO's were concerned .
The last pilot I talked to is a very close friend of mine. He told me about this event while staying with me this summer. It is a very interesting report to me as I know this man to be of high character and extremely logical and intelligent.
This friend also was an Air Force pilot during the 1960's . He was a FAC or Forward Air Controller pilot in the Vietnam War.
After he finished his service to his country my friend became a private pilot flying out of Northern California.
He told me of a very odd experience he had during a flight in a small airplane while transporting one female passenger over Sacramento California in 1974.
He was flying over Sacramento California one afternoon with his female passenger approaching the Capital Building . As my friend and his passenger flew closer they both noticed a large red orb about 1500 ft over the Capital Building just hanging there silently . My friend had never seen anything like it before.
He radioed in asking if anyone else had reported the strange orb. He was told no one else had. He was fascinated by this strange object and radioed back that he was changing course to circle this object to see if he could figure out what it was and how it was just hovering in mid air .
He and his passenger flew a semi circle around this object to get a better look at it. He said it was about the size of a Volkswagen. It was a perfect sphere hovering about 1500 feet directly over the Capital building 's dome. It was an incredible sight he told me as it had a liquid plasma moving interior.
My friend described the orb as nothing he had ever seen before. He told me it was completely silent and did not move at all beside the motion of the plasma material in the center of the orb. There was no obvious method of how this object was able to hover in mid air. He and his passenger flew around the object as to make sure it was not a reflection or something that was a projection of some kind.
It appeared to be equal all around and a solid object hovering in place over the Capital building.
When my friend and the passenger returned to their planned course they radioed in the sighting to be met with a dull response that no one else is reporting the object.
They landed shortly after with the anticipation all the news all over would be covered with the fact this large red orb was hovering over the Sacramento Capital Building in Sacramento California. To their utter astonishment there was not one word of it anywhere. It seemed incredulous to him and his passengers that thousands of other people out and about the Sacramento area did not notice that huge orb hovering directly over that building.
He watched the news for about a week without any other report of the object. This my pilot friend found as strange as the sight of the object. He told me he never got over that day and wonders often what it was he saw hovering over that building. The only reasons I can come up for this is either the craft was cloaked from the ground so those below it could not see it or that the world just does not look up. Even on beautiful days in Sacramento.
I find this encounter very interesting. I too witnessed a strange red orb with the same plasma type material moving within its borders. Although the one I saw was much smaller it too hovered silently in mid air. Interestingly the red orb I saw was also in the mid 1970s.
I have been carefully reading other reports of similar objects and think one theory worth considering is that these orbs are secondary objects being released from much larger mother type ships. They may be used for the purpose of surveillance or some kind of connection with our planet that we do not yet understand. I came to this conclusion as I did come upon a few reports that mentioned second larger ships at a greater altitude seen around the area of orb sightings. I see no reason to discount this theory or any logical explanation concerning the reports all over the world of orbs over houses , buildings, towns, and cities. These objects are doing something, We just do not know what it is!
I was glad I took the time to privately ask each of my pilot pals about this subject as they were the ones up there with the objects when they sighted them. The idea of it being lanterns, balloons, birds, swamp gas, or other planes was wiped out by the close view and expert eyes of the pilots flying along with these objects.
I know after talking to those I know who fly the skies that I will pay far more attention next time I am traveling by air. Who knows what may be found if we just pay attention and look!
♥
Copyright © 2011 Chris Holly all Rights Reserved

Chris Holly's Paranormal World-

http://endlessjrny.blogspot.com/


Email chrisholly61@yahoo.com Phone: 631-887-4818
****************************************************************************
******************************************************************
if you are visiting my site via a link from another site please click on the image below to view our entire site along with all our recent articles.
A while ago I wrote an article about my adventure of investigating , with a bunch of my family members, the legendary Mt Misery Road here on Long Island , New York.
The road is known for being haunted by way of being a place with lots of old history including being the location of a civil war Hospital among other things.
For years people have been claiming to see ghosts along the road especially around the area of a very old cemetery
A handful of relatives and I decided to take a trip along this road about a year or so ago and found it to be very interesting. The road is located in the middle of a very busy part of Long Island however stands out like a throbbing sore thumb as soon as you travel for a few minutes down the road and away from civilization.
The area of this road has been preserved by old homesteads that have become locked in time. The road and those around it are narrow country roads lined with lots of open land belonging to the old houses that make up the area. There is a great deal of state owned property mixed in along the road making it very desolate and blocked from what the rest of Long Island has grown to be.
Traveling down this road is like stepping back 200 years in history. Not only is it locked in a time warp it is also a very bleak eerie place that without question made my skin crawl. I did not enjoy my trip to this road or the area around it , in fact I could not wait to leave .
My family and I did not see anything we found ghostly during our first visit to Mt Misery Road and decided to track back to look at the old homestead of Walt Whitman in the area. When we reached the house we pulled over off the road to look in at the house and grounds.
This was when two odd things occurred. While looking at the house we heard an old time train whistle coming from the large state own preserve across from the house. My brother was in the back seat and commented that there were no train lines in the area. We all thought it was odd but knew there could have been many reasons for hearing it including the fact someone in the area may own an old train whistle and uses it to call in kids or to announce the time. People do this kind of thing when living in a open country area.
The second thing to occur is a bit more confusing. As my car full of family were all looking to the right side of the car towards the old homestead , I could feel something on my left and turned towards the driver's window where I was sitting. There right in front of my face an Asian man in a small black vehicle had driven right up to my window and was screaming at me. I did not hear him I watched him. His mouth was moving and his hands were over his head just raging at me. I was stunned and said to the others in the car " What the ..?."
I looked quickly towards my family sitting with me in the car to get their attention . It could have only been a second or two. I turned back to look at this crazy man to see only the back end of his car quickly pulling away.
Again I turned to the others in the car asking if they had just seen that? My partner in life was sitting next to me in the front in the passenger seat. He told me he saw the end of a dark vehicle driving off but nothing else. I tried to look in my mirrors to see where the man went. From where I was parked it was impossible to see down the road.
I pulled away and did a U turn to see if I could see where this odd man went. The road was empty in both directions . We decided to ride down the road as it was impossible for his car to disappear from sight that quickly. We concluded he pulled in to a driveway.
The man had no reason to be screaming at me as we were completely pulled off of the road and not blocking his passage. His rage was strange so we wanted to see if he was a local who lived on the road and angry at our tourist behavior in his community
It became apparent once we started driving down the road that this man did not pull in to a close driveway or another homestead as there were none. We drove up and down the road trying to figure out where this man disappeared to in his little black car who was screaming at us without sound or reason. I will never forget his rage or how although yelling at us we heard nothing.
That event cured my need to visit Mt Misery Road. . I found the area depressing and the event with this strange man uncomfortable . I wrote about the event and forgot about it.
One of my sisters and her husband both work in medicine. They are science minded people who until proven otherwise keep a rather skeptical view of things considered unknown.
She told me once about a year ago that every now and then they use Mt Misery Road as a short cut across Long Island to travel from the North to the South Shore. She told me it was very unusual due to the fact it is like stepping back in history and time and she was captivated to have a living view of what life was like a few hundred years ago.
She did not mention this road to me since she told me that and I thought nothing about it - until recently.
My sister called me and told me she had a very strange experience with her husband driving along Mt Misery Road. She told me they were slowly making their way along the road as it was very overgrown in areas and the foliage was overtaking some of the already narrow passage the cars had to travel along the old road.
My sister told me her husband had her pull off the road along the state land as a large branch was blocking most of the road and her husband felt it made for a dangerous obstacle and wanted to hop out and throw it back in to the woods.
She said her husband was in the process of tossing the old limb back into the wooded area along the side of the road when out of nowhere ahead of them about 40 or 50 feet down the road an Asian man appeared in the middle of the road. He was shirtless with black pants on. He was waving his arms at them and appeared to be angry with them.
My brother in law was a bit stunned for a second and stood and looked at the man. He put up his hands in a no problem gesture and yelled down to the man " I do not want any problems buddy - just clearing the road. We are leaving now".
My sister's husband got back in the car and told my sister to lock the doors and to keep driving. My sister hesitated for a moment as the man was ahead of them and frankly he frightened her.
The Asian man walked to the side of the street . Her husband thought he went back up his driveway and told her to simply stay in the middle of the road and drive on. He wanted to leave the area as to not upset the man any further. Obviously he was not completely normal or he would not be shirtless or yelling in the road.
My sister started the car and gunned it down the road. They drove past the area the man was standing only to find congested woods on both sides of the road. They kept driving but did not come to another driveway or street for about a half of a mile . They were confused about what they saw and found a police care once they drove back to the populated area and told him what had happened.
Of course the police were not interested but did agree to drive down the road to see if the man was harassing cars and drivers.
We have no idea if he did go or if he did find anyone or anything. I found their experience as odd as our own and think that Mt Misery Road has yet another strange ghostly inhabitant protecting the area.
I told the story of what happened to my sister and her husband to my brother who is visiting me for the summer. He wanted to take a trip over to that area to take some pictures of the old homesteads and history that is part of the area. I had little interest in returning but agreed to take a quick ride down the road so he could take his photos but told him anything at all odd and we were out of there.
The road remained as I had last seen it locked in the past and for me bleak and eerie. I do not like being there at all.
My brother took the photos he wanted and we were leaving the area when he was drawn to a very old house that was abandoned sitting along the side of the road. He insisted I stop the car and we both got out of the car and stood directly in front of the old place.
I stood looking clearly at it and did not see anyone or anything around. It was extremely quiet around the old house. I noticed I did not even hear birds or the normal sounds of summer while I stood in front of the house. I did not like the house and it made me extremely uncomfortable.
My brother was captivated by the old place and kept taking photos of it. I finally felt so creepy at this old place that I got in the car and threatened to leave my brother there if he did not get in the car with me. He agreed the place had a bad feel and jumped in the car when I started to drive away.
Days went by before my brother decided to load his photos into his computer. When he did he sent me a few photos with this question " What is that in the upstairs window? Did you see anything when you were standing there?"
I looked at his photos and quickly saw what he was questioning. There in one photo is how the house appeared to me when I was standing in front of it. I walked with my brother and stood next to him when he took the second photo which in time were only about 15 seconds apart when he took them. I was looking at the house carefully both times and did not see anything.
It may be nothing however on the one photo it clearly looks like something is in the window second to the right on the second floor of this old house. I have no idea why this looks as it does. My brother does not think it is a trick of the light . I have no idea what to think. I will tell you I have no intentions of going back to find out.
Photos taken that day with one below showing odd shape in second floor window that was not there seconds before.
My brother wants to return to take careful photos to see if he can capture anything else. I told him he is on his own . All I can say is that things are very odd on Mt Misery Road and I guess that is why is has the reputation as the most haunted road on Long Island.
***********************************************************************
If your visiting from another link please click here to be taken to our main page to see all of our posts! thank you Chris Holly!
*************************************************************************
I was 16 years old and had my junior driver's license, which meant I could driveuntil dark. It was summer and dusk came late--around 9 o'clock. When we planned our days well and were lucky enough, we would arrange with the 18 year-olds who had full licenses to follow us home to drop off our cars before nightfall. They would then take us out in their cars for the rest of the night.
On a typical evening we would all hang out at the McDonald's in town. As dusk approached we would try to find the 18 year-olds willing to follow us home before the night took hold and the police sorted us out. Anyone caught driving with a junior license after nightfall would lose his or her driving rights altogether. Consequently, the hours between 7 o'clock and 9 o'clock became critically important each evening. If we did not have our "after nine" pals lined up by then, we were home for the night by nightfall.
It was a Saturday night. My parents were off visiting my grandparents. I was allowed to drive my mother's convertible around with my pals until nightfall. I was to return the car to our house by 8:45-or else.
I was out with my two friends, Sally and Sara. We were hanging out with our other pals at McDonald's. My friend Sally's older brother agreed to pick us up at my house at 10 o'clock that night--after I had taken my mom's car home. He agreed to take us for pizza in town. It was a big deal to us at the time as my friend's brother was a 20 year-old. Being seen at the pizza place with him was a feather in our 16-year-old caps.
Time came for us to take the car home and so we headed to my house to meet Sally's brother. I drove the car home and parked it in the driveway in front of the house.. We all rushed to my front door as a few hours of cola drinking at McDonald's left us all in urgent need of the bathroom. The three of us ran to the bathroom across the hall from my bedroom and laughed as we yelled at each other to hurry up and swore off all additional cola drinking during future McDonald's visits. I was last in line and rushed into the bathroom as my two friends stood brushing their hair in the mirror.
My friend Sally stood straight up, turned completely white and said to Sara and me, "I have a horrid feeling--we are not alone in the house. I think I heard something." We all froze and listened. I thought I heard a sort of bump, too. I stood up and said, "Let's get out of here!" The three of us blasted through the bathroom doorway, down the hallway, and out the front door. I slammed the door and locked it. Luckily, I had placed my keys into my pocket but I left my pocketbook inside the house. We ran to the car and I backed it into the street. We quickly closed the convertible top and locked all the car doors. We were all in the front seat. We sat there terrified. I could feel my heart pounding with a fear I knew was real and warranted.
After a few minutes we thought maybe we were just suffering from "boogie-man" syndrome. I thought I should at least go back inside and get my pocketbook. Then I could call my parents and have my license and money with me as well. I was getting out of the car to go back to the house when something caught my eye.
I lifted myself from the driver's seat and stepped outside the car, I thought I saw the front porch light flicker. My friend Sara stood beside me in the street as we looked up at the house. We watched as the light over the front door turned on and off-again and again. I felt a fear I had never before known. Somebody was definitely inside the house and playing with us as well.
We jumped back into the car and locked the doors again. I started the car so we could go call the police and my parents. As I turned the ignition key with my trembling hand, I continued to watch this person inside our house proceeding to light up the living room. As we pulled away, my friend Sally said, "Oh God, he is in your room! He turned on your light!" I felt sick and angry all at once, knowing as I drove for help that someone was in my home, intentionally toying with us.
We reached the end of my street just as my friend's brother turned the corner on his way to pick us up. I blew the horn and told him to pull over. We all started screaming at once. He had brought two of his football pals with him and so we all decided to return to the house for one more look. We both parked in the street and everyone watched as lights inside the house kept switching on and off every few seconds--first the kitchen, then the den, and then over to the living room. The front porch light was apparently turned on and off every time this intruder passed the switch inside. The boys watched this taking place and clearly felt the same fear we did. My friend's brother decided we needed to call the police. He sent one of his friends in his car to call 911. We stayed locked in my mother's car--the three of us girls, Sally's brother, and Sally's brother's friend.
I decided to keep the motor running. At this point I was scared out of my mind. We watched as the light show continued. We sat silently waiting. The air was still. The only sounds we heard were the light chirping of summer crickets and the light hum of the car motor. Nobody said a word. We all knew we were being watched by and played with by some type of madman. Sally finally broke the silence. She said, "Thank God you did not go back into that house." I just sat frozen, ready to drive away if I needed to.
We sat there for what seemed an awfully long time but in truth was only a few minutes. I was very fearful this person in my house would leave before the police arrived. We sat anxiously as the seconds ticked away and occupied ourselves by watching lights turning on--and now staying on--throughout the house. Soon the house looked like a barn fire on a dark beach as every light appeared to be on--including outside floodlights and driveway spotlights. We again sat silently, watching. Suddenly from deep inside the house came this animal-like, wild growling scream. I will never forget this non-human screaming until the day I die.
As this thing screamed it must have been pounding on the backside of the front door or a front wall. The house echoed this wild animal like screaming and muffled banging with such force I began to shake and cry. My friend's brother touched my shoulder from the back seat with his hand and said, "We need to leave. This is way too much for us to handle."
I was shaking so much I could barely place the car into gear. We started down the road but had rolled only a few yards when our friend returned with a police car following right behind him.
Coincidentally, my parents were turning the corner right behind the police car. I stopped my car and waited until the policeman was standing just outside my car door. I rolled down the window and then we all started to tell him what was happening.
The policeman looked up at the house to see the last of the light changes occurring. While

the policeman stood looking at the house the creature inside let out one last howling scream. The policeman reached for his side arm and whispered "Mother of God" My parents ran to the side of our car and the policeman asked my father for the keys to the house. He then withdrew his gun, called for backup and started up the driveway toward the front door.
Before the policeman unlocked the front door, another policeman arrived. He ran to the front door to aid the first policeman and they entered the house together. We all stood outside watching as the policemen made their way through our house-this now eerie-looking building we girls had been giggling in just moments before. It again seemed as if a very long time passed-maybe ten to fifteen minutes--then one of the policemen called my father to the house.
Again they seemed to be searching the house-this time all three of them. My dad eventually returned to the rest of us, still standing by the cars, and told my friend's brother to take all the kids directly home and to lock his car doors and not stop for anyone or anything.
As my friends drove away, my dad told my mother and me to get back into the car. He got into the car with us and quickly locked all the doors. He then told my mother and me the policemen discovered the back door had been ripped open. He said the person who broke in had taken some of our clothing and makeup and thrown it around the house. My dad then looked at my mother in a way that told me there was something more he was not saying.
By this time there were many police cars around the neighborhood. I saw two policemen with a dog searching the neighbors' yard closest to our house. My friend Kim lived there with her family. We sat in the locked car for a long time. Both of my parents were upset and I was scared to death.
Finally a policeman appeared at our front door and motioned for my father to come back inside the house. My dad left us locked inside the car and did as the policeman directed. My dad talked with the policemen for a few minutes and then motioned for my mother and me to come inside the house as well. When my mother and I walked into the house, one policeman and my dad took my mother by the arm to show her something down the hallway while another policeman tried to distract me in the living room. I wanted to stay with my parents and so I started to walk toward the bedroom area where they had gone when my mom let out a horrible scream and burst into tears. I took off in a full run to where my parents were standing.
They were in my bedroom. I walked into the bedroom myself and saw my parents looking behind my open closet door. The policeman was looking behind the door as well. I leaned forward and pushed the closet door closed in order to see what they were looking at in the space behind it.
On my bedroom floor, no longer hidden by the closet door, sat a little wooden chair my dad normally kept in his office behind the garage. Draped over the chair, as if someone had been sitting there holding it in his hand, was a long piece of brand new rope. It looked as if someone had just let it slip from his hands as he stood up to leave. On the floor beside the chair were a long sharp carving knife from the kitchen and some matches. My makeup had been used to paint strange marks and symbols on my bedroom wall. My nightgown was torn and thrown into the wastebasket next to my desk. On my bed was an outline where something had laid on it and left an imprint. Across my headboard on the wall were long claw marks where something had torn into the wall. I also noticed a putrid order lingering in the house. I took it all in despite my paralyzing terror and then I looked one more time at the little chair and rope no longer hidden by the closet door.. I ran to the bathroom and vomited. My mom, crying, came in after me. I knew I had missed losing my life that night by the mere luck of my friends needing to use the bathroom. If I had entered the house alone, my life surely would have been taken. The question was, but by what?
It was a big deal that night. The police stayed with us for hours. They did not pretend the incident was just a robbery or some silly kid staging a prank. I knew clearly, as they did, that I had barely escaped a cruel and untimely death. Police searched the area for hours that night. They scanned the house for fingerprints and took great care in recording the details of all we had seen and heard.
The police talked to my dad before leaving and told him they knew of another incident in the area with similar details. A woman had been lured into her basement by the unexpected sound of her washer and dryer running. She also heard the horrid screams of this vile intruder and ran for help. It was not the first time they had to deal with this, and we could tell the police were both concerned and frightened.
I slept on the floor in my parents' bedroom that night. In fact, I slept on their bedroom floor until my dad fitted all the windows and doors of the house with either heavy-duty locks or steel bars. I refused to go outside by myself or drive anywhere in the car alone. I was terrified.
We were sitting at the kitchen table when he finally came back. I could tell by one look at my dad's face something once again was terribly wrong.
My father sat down and told us that my friend Kim had been sitting in the family room watching TV. She was home with her mother and little brother, sitting on the couch beneath the family room window, when something from outside the house grabbed the window--frame and all--and ripped it right out of the side of the house. I could not understand what he was telling me. I asked my father what he was talking about. He repeated--someone or something with incredible strength grabbed the window frame and ripped the entire thing out of the wall of the house. Kim jumped up screaming as a long greenish gray snake like arm swatted for her from outside the window shell. Kim claimed she felt what seemed like a claw skim across her neck. Her mother heard all the noise from another room. She grabbed her husband's loaded rifle and ran into the family room where she saw the window ripped out of the wall and this arm reaching for Kim. By this time Kim was on the other side of the room screaming. Her mother took aim and fired at the space where the window had been. She could not tell whether she hit it. What ever it was ran away howling that same angered non-human scream when she fired the gun.
Once again the police searched the area. Dogs were used. Police cars covered the streets. Once again this creature escaped. I remained terrified the rest of that summer. I refused to leave the house without another family member accompanying me. I refused to drive alone in my car. I never stayed home alone and progressed only as far as sleeping in my bedroom with the door open-provided my brother (who was home from college on summer breaks) or my parents kept a bedroom door open as well.
I went away to school the following year. I would never again spend time alone in that house. If my family went away, I would go out too and stay out until they returned. I never again felt safe in that house.
As far as I know, whatever entered our house that summer night was never caught or identified. I do know he or "it" intended to tie me up and hurt me. I do know he or "it" had little fear and enjoyed terrifying us that night. I also know he or "it" was beast-like and far from human given its loud haunting screams, incredible physical strength, reptile like skin and putrid smell. I do know the monster that ripped the window and frame out of Kim's wall was the same monster that intended and tried to kill me.
I am thankful I ran out of the house that night, that I did not go home alone, and that my friends were there with me to help me think things through. Sometimes our fate is just a slight degree from being something we can or cannot survive.
That night fate gave me a helping hand. Many a day since I have pondered how lucky I was to survive that horrifying period. It haunts me still as I continue to wonder what type of creature I could have faced alone that night. We all often wonder from where did it come? And where did it go? I often think about this experience as one of the greatest mysteries of my life.
Remember; always be careful out there. One never knows what lurks behind the closet door!
♥
Copyright © 2008-2012 Chris Holly's Paranormal World http://endlessjrny.blogspot.com/
email chrishollyufo@yahoo.com phone 631-877-4818
**********************************************************************************
IF YOU ARE VISITING FROM ANOTHER LINK PLEASE CLICK BELOW TO BE TAKEN TO OUR MAIN PAGE SO CAN READ OUR SITE IN FULL