I think those who follow the paranormal, especially the subject of UFOs, are fully aware we have recently been under a flood of Orb sightings all over the world.
My email box continues to fill with those sending me reports of Orbs along the coastline of the Atlantic Ocean.
I understand the Pacific Ocean coastline also has had a huge amount of Orb reports as well. Without question I will remember the summer of 2012 as being the summer of the Orb.
The things that stick out in my mind from all the accounts I have been sent or heard concerning the Orbs this summer is the similarities that were reported with almost each and every report.
The Orbs were reported as silent and craft size meaning as large as a car or bigger. The Orbs were all a bright white yet consisted of a material that was not blinding so that those viewing it could see a plasma or movement to the lit object. The Orbs all rotated in color from white to orange to red and most would dim out completely at some point revealing the outline of a round dull black object that would either dim out or completely disappear. Others would watch as the Orb would regain its color pattern and quickly fly off into the night
Not only were the Orbs completely silent they were fast and able to maneuver without the usual banking or slow change of angle needed for conventional air craft making the same change of direction. The Orbs were seen most often going towards or coming from the direction of the Ocean.
Although there were sightings of one single Orb the majority witnessed two or a group in formation flying at enormous speed yet able to stay in formation while making incredible changes in direction or altitude.
Many sightings were seen by groups of people. A few cases reported the Orbs stopping dead in the air hovering near or over them as if deciding what it would do with those watching them from the ground. These events were frightening to those who experienced them.
I was
told that some of the people who experienced the Orb sighting did try to report it to local authorities or place it on internet
reporting agency's which simply went to a dead end as far as figuring out what it was that they were seeing.
I am sure I am extremely unpopular with the paranormal community but admit that we are lost when it comes to handling the ongoing , growing , in our faces, over our heads, continuous situation of unidentified crafts and objects flying in our skies. I know there are a few good people trying hard to handle this area and others who obviously want to control the reporting of all these things but not for the good of anything other than their own private agendas. A single person trying
alone to deal with this has no chance at all to do all required and needed to find answers. All he can do is try to keep up the list of reports he is sent in what I am sure is an avalanche of data.Sadly we also find people who have no business, skill or background claiming they are a reporting agency. It is just a hot mess of confusion and a disgrace.
The other organizations listed as reporting agencies seem to be busy with internal management problems and a team of those who seem to be far more interested in control of the subject than any actions or answers. There is not one organization of serious science researchers to be found where reports can be sent for true investigation by professionals who have the ability, background, training or equipment to find the truth concerning this huge ongoing, growing phenomenon of unidentified flying objects.
On top of a lack of true investigators with the background needed to find answers we have an actual refusal by those needed and able to really investigate the subject of the tsunami of sightings worldwide due to the fact they fear it would destroy their credibility.
A great deal of this
is is due to the massive amount of fiction and fantasy that has been tossed into this subject by those who simply refuse to stop muddying the water. The amount of people wanting to be part of this subject matter at any cost has produced a land of opinions, fantasy, delusion and confusion that keeps the world of UFOs a convoluted mess. It is surely one of the
main reasons those we need involved in this research stay instead at arm's length.
It is hard enough to wade through the amount of material given by good people who have had real encounters or sightings. Add in the opinions and fantasy of those who want to be part of this subject but have no real experience and you have an overwhelming tonnage of material that has us stuck and lost to what is truth and what is not when it comes to unidentified flying and submersible objects.
Reality was lost long ago once we started to entertain ourselves with scary stories and waste our time faking photos and videos. The most distressing to me are the mountains of opinions or fantasies of what people want this subject to be about that is based on nothing and tossed at the public as truth. I find this a hard roadblock to over come for those trying to figure out what is really going on. I have had encounters with unknown objects and still have no idea who or what they are , where they come from or what they want. I have clues by way of my experiences and those of others I believe to be telling or real events but know until we have the solid investigations needed it all remains unknown.
It becomes more difficult with each passing day to find an end to this problem much less a solution. Every day all over the world good honest people are seeing things they do not recognize or understand. Unfortunately as many people, for reasons only they can tell us, are making up stories and faking reports , videos and photos that they spend huge amounts of time and energy contriving as to claim they too have had an encounter with an unknown event
Recently I listened to an internet radio show where a man was being interviewed as having intimate information about aliens and claiming he was in constant contact with other worldly beings. Sadly I remembered this man from years ago claiming a similar story of being an actual alien. He was doing this at the time in the chat room circuits and was placed in jail for causing harm to young men in a very nasty manner who believed him to be real and arranged real contact with this monster. It ended when this horrible man was send to spent some time in jail for his evil deeds. I was not shocked to find him back at his old ways nor was I shocked the public was still buying in to his insanity by giving him air time while interviewing him in a serious manner. How can we ever expect to be treated in a serious way with our demands for disclosure when we behave often like fools without any filter presenting things as real possibilities that are simply ridiculous?
With this the way of things in the area of the UFO subject we cancel out all chances of moving forward to finding answers. The good people do not want to be ridiculed or involved with the unbalanced or fraudulent and often do not report what they have seen. I am known for protecting my sources which is why I believe I am contacted by so many people who have had true sightings or strange experiences.
I have no reliable organization to help sort out all of this data and the massive amount of important information that is available goes unused and lost due to our own madness in the handling this subject.
Not only do I clearly state I am not in any way a researcher , I openly admit I have no qualified people, organizations or agency's to suggest to those who contact me.
Now with a summer ending that was packed with constant reports of strange silent flying Orbs we are no closer to understanding them due to our own failure of how we approach and deal with the subject of UFOs.
It is our fault we do not know who or what is behind this issue. As long as we continue to keep this as a source of chiller thriller and not as factual events that our science should already understand we will continue on in ignorance.
This is not the governments fault or the science professionals who refuse to seriously tackle these unknowns fault – this is our fault all the way and that is about the only real true fact we have about this subject. Until we grow up and knock off all the private needs and agendas and stop making this area of the unknown a form of fun and entertainment it will not change. When we deal with the subject as a society who wants and demands to know and stop making it a three ring circus maybe our government and university and research labs will begin to take what we are seeing seriously. For now we are stuck in a big mess of confusion and lies.
This of course is a blessing for our government who has no wish to clue us in on this topic. They are extremely happy with the road we have taken as they need not do anything but promote another Hollywood Space Thriller to keep us chasing our own tails and out of their hair.
It is a shame as it keeps us locked in the dark ages and completely ignorant of what we should know. I can offer the reports and advice from those who contact me but I fully understand I am also thrown in the big pot of distrust and disbelief. How else would it be considering how we act and react to this subject?
I continue to write about the encounters I believe to be true in hopes someone will recall something I have written that one day may help them if it becomes their night to find they are looking in to the cold dark eyes of the unknown. I also try to relate to others my concerns due to firsthand experience I have had in the areas I write about. I rarely speculate and find it amusing to find so much of the paranormal lost in opinions and speculation made by those who have not ever had an experience or the background to do so. I know it keeps us locked where we are and until it changes we will continue to walk around with our opinions and speculations and little or no facts! No one believes the next guy and everyone thumbs through the paranormal looking for a new scary fun story. Let's face it with Dec 21st right around the corner would you really be spending your last days alive listening to a bunch of silly people talk about silly things or would you be out living your last days to the fullest? I think you would be busy doing other things if you truly believed the world was about to end!
The Orbs are being seen.
UFOs are being seen.
I am sure all of the people who have reported them to me asking me what they could be are not all making the sightings up. I am also sure I have been sent false reports and adjust my inbox accordingly to discard those who are obvious and insincere.
With that said I still
have ended
up with a large amount of people who witnessed Orbs and other unidentified crafts this summer.
I have no idea at all what they are. I have no idea at all who is behind them. I do know they seem to want to watch us in some incidences and in others appear to be in a big hurry to get to a destination and have little interest with the humans viewing them.
I always remind those who send me reports of seeing strange objects in our skies that we do not know what these objects are and to always deal with the event with safety as the first concern.
I warn people that unidentified objects are unknown and until we understand what they are and who is behind them we must handle them with care.
I have known of cases where people have been harmed by Orbs and cases where UFO encounters have not gone well and need people to understand and handle these events with great care and safety. You have no idea what these things may be and have to go about dealing with them with the idea you have a 50/50 chance they are harmful or harmless. Are those odds enough for you to risk your life or those of your family or friends?
Always think safety first.
I wish I could say I know who or what is behind all the unknown objects seen since man has been looking towards the heavens but I cannot. No one can at this point in time. We know they are there, we know they are ignored by the governments in most places on earth and that we are left to our own devices which we continue to muddy and destroy which ruins our chances of finding out fact or truth. Until we have official professional agency's where we can report without fear of rejection or ridicule what we are seeing it will remain this way. Once we establish a true place of real investigation the fakes and frauds will be sorted out quickly by those qualified to determine the real cases from the fake ones and we will slowly be on our way to understanding what is happening every day throughout our skies.
For now I can only hope the fools who are responsible for muddying the water to the point of destroying all chances at truth will soon find something else to fill their private agendas so we may one day advance past our total ignorance concerning the subject of UFOs.
I can only hope this happens for us before we are consumed by our own ignorance.
For now if you see something be careful and retreat to safety and find other people and lights. If you want to report the event or feel threatened call your local authorities and report strange air traffic and lights over your location and ask if it is a police action.
That may get you a car sent out to see what you're talking about and if you're lucky a law enforcement person as a witness.
As always I wish you the best of times as we make our way along our curious journey upon our mother earth.
♥ Copyright ©- 2012 Chris Holly all Rights Reserved
Chris Holly's Paranormal World- http://endlessjrny.blogspot.com/
Email chrisholly61@yahoo.com phone 631-877-4818
http://endlessjrny.blogspot.com/2012/09/unidentified-i-objects-and-mankind.html
****************************************************************************
IF YOU ARE VISITING FROM ANOTHER LINK PLEASE CLICK BELOW TO BE TAKEN TO OUR MAIN PAGE SO CAN READ OUR SITE IN FULL



******************************************************************************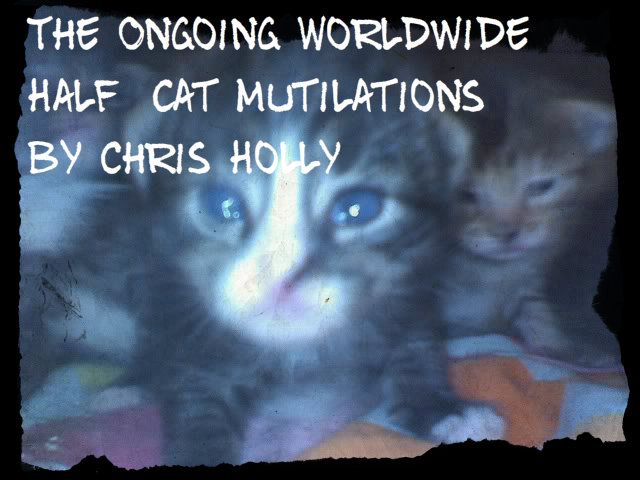 Half Cat Mutilation reports continue to fill my email box from all over the world. The reports are nearly identical. An ordinary person going about their normal routine stumbles upon a half of a corpse of a cat left for them to find

in an area that cannot be missed.

The remains of the cat are always half of the cat cut straight across its mid-section dividing the cat in two parts. The top part of the cat including the head and two front paws is the most common half left in a staged manner to be purposely found.

I have read reports of the bottom half of the cat left as well but most often it is the top portion of the cat.
There is no blood, no internal organs or mess to be found anywhere. The cat is left gutted, cleaned and looking very much like a cat hand puppet.

The incision is clean and neat and without signs of any animal aggression towards the cat.

I have been told the cats do look as if they tried to defend against the attack by signs of defensive actions but ultimately you find only a half cat that has been gutted, drained of blood, cleaned and left staged in a place where the cat will definitely be found.
Sometimes the cats belong to the people who find them. Other people have no idea who the cat belonged to but found it laid out across their walkway or patio neatly and obviously to be discovered by those living in the area it is being placed to be found.
I have had reports from all over the world concerning this strange dilemma of half cat slaughters all with the same specific details.

I have been receiving reports for over 7 years and have been told it has been going on for at least 20 years or more worldwide.
The half cat puppet like remains of the poor animals do not make any sense or do they seem to have any logical reason.

I have asked those who I thought could provide some insight into this mystery but have come up empty as far as explanations or answers are concerned.
No one can suggest an animal that would carefully kill, clean and bring back half of a neatly formed half cat body to be found by human eyes.

I could not find an illness where this type of compulsion would be part of a pattern by those suffering from it.

That does not mean that this is not part of a mental condition that is worldwide and that the horrific mutilations are part of what those suffering from it do as part of their emotional confusion.

This could be the case however I cannot find any links to such behavior in any group of ill human beings.
I do not know what benefit it is to kill, clean and stage the animal to be found?

It could be some sort of worldwide cult activity that has been going on for decades if not centuries.

If that were the case I would think by now one of the societies where this has taken place would by now have some sort of an idea who and what group would be doing this.
At this point , after years of trying to find answers or even find a clue- I can only say I

have no idea who or what or why this strange horrific cat killing or any of the animal mutilations are taking place all over the world

The only thing . I do know as fact is that animal and even human mutilations occur and continue to be complete mysteries. Who or what could be behind this horror is a question I think needs to be researched seriously and quickly. I think we have looked at these things with a dumb-ed down curiosity that allows us to simply shrug our shoulders and walk away. I think this may be a mistake and we should try to look at this nightmare not only in a more serious manner but as a warning of what may be ahead if we do not confront such horrors in a more determined way.

We need to insist on more involvement of our law enforcement officials along with the eyes of science to figure out why these awful mutilations and slaughters of living creatures are happening worldwide.
I admit I could not give this subject the time and effort it needs.

I was at a loss at where or who to ask or turn to

about it

when along with a few new reports of half cat mutilations in my email I found

a note from a woman who told me she wanted to start looking at these things with a more determined eye. She realizes the depth and horror of these mutilations and decided to do something about it.

She is going to join with others and continue to collect and report data concerning this issue.

She will contact those who are working on this subject with the hopes a more serious thinking can be applied to this truly horrific subject.
The name of her site is 'Enigma Earth' she will be collecting and welcomes reports of all the animal mutilations and understands the scope and horror of the half cat dilemma.

You can reach

Enigma Earth

@
I will be working with this site by directing this type of report to her and providing links to her site on my blog. I hope all those interested in and disgusted, disturbed and concerning by these activities support and help this site work on this horrible situation.

I believe that many subjects considered unknown would be solved if people worked together to find answers.

This has not been the case with the paranormal to date however maybe due to the brutal killing of so many living creatures we will start to give up egos and dreams of internet success to stop the madness of these mutilations.
For now continue to be careful out there, turn off your hand held gadgets and phones and give your full attention to your surroundings. And for all of you who love your cats- keep them near and keep them safely out of harm's way.
This issue remains ongoing and confusing. Before I was able to post the above article we received yet another strange report of odd found dead cat remains. I will forward this to the new group investigating these awful mutilations but first wanted to add it to this article.:
"Hello,

"About 1 1/2 years ago I was walking my dog in the early morning when I saw what appeared to be a dead cat on someones front lawn. As I got closer I realized that the cat was cut in half. It was just its head and front legs. It was a clean cut like someone took a knife to it. It was obviously a fresh cut because it was pink inside but I didn't notice any blood. I thought it must be a coyote but there was no hair around the cat and no blood and the cats fur looked normal. I just assumed it was a coyote because I have seen them in my neighborhood several times. I told my friend what I had seen that day and she said oh no, that's an owl that killed it. She said that's what happened to her cat a few years ago. I thought well that makes sense.

About 3 months ago, I was walking my dog in the early morning and there it was again, another cat. This time in the middle of the street, cut in half, clean line and no blood. I thought wow there are a lot of owls out here.

4 weeks ago, same thing, walking my dog but this time was different. I saw something on the sidewalk and I thought it was a rat, as I got closer it was half of a tail. The tail was jet black with white stripes, clean cut, no blood. About 6 feet from that was the half cat again, it was light peach in color, no blood, clean cut. About 3 feet from that was the bottom half of a cat that was dark brown in color. I thought geez, this time the owl killed 2 cats at once. It wasn't until later when I was telling the story that I thought wait, that tail didn't match the bottom part of the brown cat and I thought I saw a fury tail but I don't remember but I do know that there is no way that it was the same cat, it was 2 different cats, maybe even 3.

About a week ago my co-worker told me to look at this website because there is a mystery of the half cats. I still was thinking it was an owl but as I searched all over the internet of how owls kill there prey, there was nothing that said their talons slice like a knife. When I asked my Dad if owls kill like that he said no bird would and they pick and rip there food. A coyote would take the whole cat back to it's pack and they always leave a fury mess. So now I am so curious as to what or who is killing these cats."

All of these events took place within 3/4 of a mile from my house.

Thank You
(named withheld for privacy)
I live in West Hills, Ca "
I have no idea what is happening out there but do think it is time for the sake of all the animals we care for and love to pay attention and link together to try to not only figure out this odd activity but hopefully stop it!
♥ Copyright ©- 2012 Chris Holly all Rights Reserved
Chris Holly's Paranormal World- http://endlessjrny.blogspot.com/
Email chrisholly61@yahoo.com phone 631-877-4818
*****************************************************************
Below find still more reports of Animal Mutilations
Livestock mutilations shake up Gunnison ranching community
GUNNISON — Recent livestock mutilations have Gunnison area ranchers shaken and on the alert for more strange attacks on cattle and horses.
In recent weeks, a horse was shot and had its head skinned at the LeValley Ranch property, which is part of the Esty Ranch holdings about eight miles east of Gunnison. The horse also had its tongue and anus removed.
Less than two months ago, a prize heifer in the same heavily traveled area just off of Colorado 50 and Colorado 114 had its tongues, lips and anus removed.
"To me it looks like a ritualistic issue. Either that, or they are high on drugs. There is just no logical explanation for it," said Esty Ranch owner Mike Clarke.
Two other incidents took place on other ranches in that vicinity in May and July.
The four mutilations have prompted the Gunnison County Stockgrowers Association to offer a $500 reward for any information that will lead to a conviction. The Colorado State Patrol has also been alerted to watch for strange activities in that area. The Gunnison County Sheriff's Office, the agency investigating the mutilations, did not return phone calls asking for comment.
Clarke's ranch foreman, Allen Roper, told the Gunnison Country Times that the mutilated animals appeared to be shot, but no bullets were found and that the mutilations were done with knives and were not a result of predators.
The recent mutilations have similarities to mutilations that occurred in the 1960s in neighboring Saguache County. The most famous incident was reported in 1967 when a horse that became known as Snippy" had its head and neck skinned. Like in the most recent cases, there was no blood at the scene or tracks. The mutilations were never solved.
In 2009, a San Luis Valley rancher found four calves with their tongues sliced out, udders removed, eyes cored and faces skinned. Those cases were never solved and there also was no blood nor tracks around those animals.
Clarke said if there is another incident he expects "the ranching community will really be up in arms."
"What concerns us is what they are going to do next?" Clarke said.
IF YOU ARE VISITING FROM ANOTHER LINK PLEASE CLICK BELOW TO BE TAKEN TO OUR MAIN PAGE SO CAN READ OUR SITE IN FUL

L

Orbs Everywhere this Summer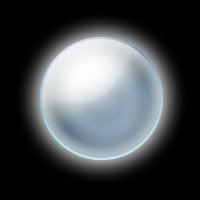 Here is one of the Orb reports in full as I received it from a Long Islander confused at what he witnessed. The reports continue of strange lights and yet life goes on without a word about it from any other source in my area. What it all means is a true mystery. I do think it is something we should be concerned about but have long learned finding a source to do proper research using trained people of science is no where to be found. I simply pass on what people share with me about what they are seeing so you will know it is taking place. One day I hope we will have investigations of these events that will be able to give us answers to all these strange events and encounters.
Email reporting Orbs:
"Hi Chris
I live in the Brookhaven hamlet/Bellport area. On the night of Saturday September 1st 2012 I had a very strange experience like I've never had before. While swimming in a friends pool (with several other people)
A bright white round light slowly moved over the pool just atop the tree line. It was traveling about 15-20mph in a smooth motion and was extremely bright & glass like looking. No sound what soever. By the time I had gotten my friends attention it had passed. Now as If that wasn't strange enough the most bizarre part followed! My eyes were now attuned to the sky. Roughly 10 seconds later another unlit object followed. The moon was bright that night and if not for that & the fact i was keenly looking upward I wouldn't have seen it. It followed the exact path but with slightly more speed as the orb as if trying to catch up. For the past several days I have not stopped thinking of this encounter. So much so I started to browse online seeing if I wasn't the only one to see something. I am now a firm believer in UFOs and only wish I had it on film for proof! Very strange things happening in our area lately...
Best,
Name withheld for privacy
***********************************************************************
IF YOU SEE AN ORB
If you see an Orb the first thing I think you need to do is secure your safety. I have had reports over the years of Orbs trying to or actually harming people. My first reaction would be to find other people and if possible go inside a secure building making sure all the lights inside and out are on. I would also call the police HOWEVER , I would not report an Orb or UFO - that sadly gets you no where and no help. Instead report strange bright lights that do not belong in your area and ask them if it is police activity or what? If they question you say , you know all the bright search lights and white lights flying over the area. Leave it at that and ask them to investigate. At least you have a chance of them rushing over to see what is going on. If you are lucky the event will still be happening and you will have a police witness. Sadly that is about all you can do with these matters as we are seriously living in the dark ages when it comes to things we do not understand and consider unknown. For now however safety first when find you are face to face with the unknown.
************************************************************************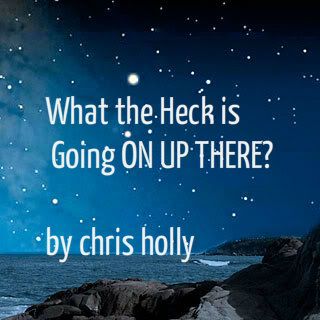 Never before in all my years
writing about the paranormal have I been swamped with email and phone reports as I have been
this summer concerning reports of UFO and Orb activity. Daily I am being told of new sightings over Long Island New York as well as sightings in California, Connecticut and upstate New York.
A group of 20 watched a formation of Orbs fly over central Long Island south east over the Island and out to the Atlantic Ocean.
A man on the North Shore of Long Island witnessed a single red Orb fly over his trees during its course out to the Long Island Sound -which is the water mass between Long Island and Connecticut.
A family in Connecticut near Bridgeport watched as two large Orbs raced across the night sky heading out towards the Long Island Sound.
All of these sightings took place over the past week starting on August 22
nd
.
The descriptions of the sightings were nearly identical.
The Orbs were all silent as they quickly skirted across the night sky. They were all about helicopter size with solid swirling bright light that fades to yellow then orange and lastly red. The Orbs in all cases blink out but not before the witnesses make out the distinct shape of a black object just before the Orb completely disappears. I have been given this description over and over by those seeing the strange Orbs.
The California witness watched as five Orbs crossed overhead as he walked along the beach in the southern part of the state near Los Angeles.
Again no sound, moving fast and changing color the group swiftly made their way out over the Pacific Ocean.
A group of friends near the upstate
town of Calicoon New York were standing on a deck
of the home of one of the men enjoying the summer night
about midnight when they all spotted a strange very bright star high in the night sky. The star was lower than the rest of the stars as well as clearer and brighter than the other objects in the night sky. The group of friends thought that the star looked to be in a small formation with two other lights near it and all of them seemed to be moving or dancing about. The group of friends had a few pair of binoculars and started to look at the strange stars more closely. One friend had a scope from his hunting rifle and added that to the group to get a better look at the odd lights. When they looked again at the star like lights they were stunned to find the objects were in deed moving quickly from one spot in the sky to another in a formation type movement forming squiggly type lines of light between them. The three objects moved and jumped about adding red and green lights to their outline as they danced together in some type of organized formation high above in the night sky.
The friends thought they may be looking at space junk or a few satellites however could not figure out why they would be bouncing into each other or behaving in such an odd manner. They watched this show in the night sky for about three hours. Now very late on a Saturday night the group discussed the idea of calling the police but chickened out due to the fear of being ridiculed or considered drunk or drugged up nuts. They simply watched and tuned in the news to see if any others had seen this strange display.


I thought this was an interesting account but did not know what to make of the report as it was not what I typically hear from those who contact me. You can imagine how surprised I was when I opened my email and listened to my calls this morning to hear many people along the Atlantic Sea coast reporting the same sighting.
Apparently many people were out doors with binoculars and telescopes viewing the Blue Moon.
After witnessing this odd activity they contacted me asking if anyone else had reported these strange dancing lights. Having many people outdoors using the aid of the magnification devices definitely increased the amount of sightings of the odd lights high in the night sky.
A woman from New Jersey claims she caught a strange red orb first on one side of the moon and then with a blink of the eye jumping to the other side of the moon. She claims to have video of the oddity however I have not seen it and hope she sends it somewhere for us all to view.
Many felt the high dancing star like lights were some type of strange activity going on between our man- made space junk that continues to obit our planet, others felt they were looking at alien actions between unknown crafts high above in our night sky. I have no idea at all what is going on but at this point would really like to know.


I keep reporting what I am being told in hopes we will all take time to look up and look hard to see if we can figure out what it is all these people are encountering. Unless we all take these things seriously we will never find the answer to what is going on right over our heads. My fear is that we stay deaf, dumb and blind to this increased activity which may be very unwise and very dangerous. I wish we had serious resources to investigate this serious subject. I long ago gave up hope our law enforcement agencies would want to be involved in this serious subject. I know the paranormal is a disjointed and confused area without any true research or investigative organizations of needed qualified researchers. Maybe a few Universities would consider serious study concerning the continued sightings and encounters of so many witnesses across the globe. I do not know what to do or who to look to at this point. All I do know is the people are speaking out and they are telling me they are seeing many strange things out there in our sky.
Please pay attention to your surroundings, always consider your safety first and know it may only be time before you are the next to find you are eye to eye alone in the dark with the unknown!
♥
Copyright © 2008-2012 Chris Holly's Paranormal World http://endlessjrny.blogspot.com/
email chrishollyufo@yahoo.com phone 631-877-4818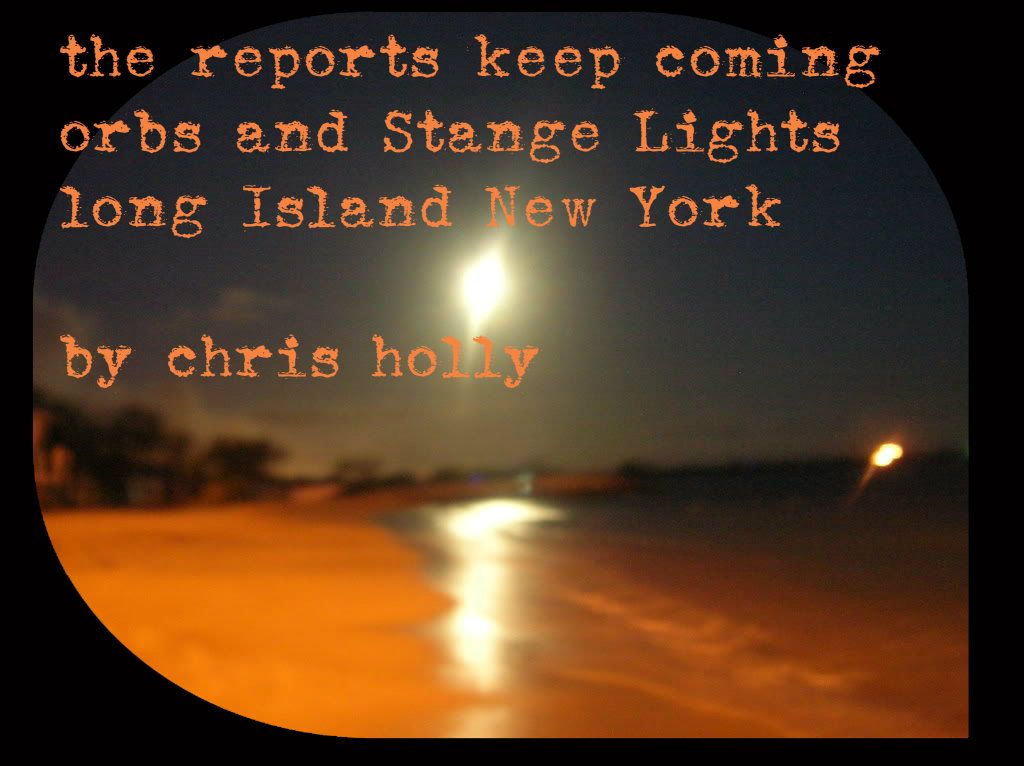 Once again I thought the sightings of strange lights over Long Island were beginning to slow down when I received both emails and phone calls from those who are still witnessing odd things in the night skies over Long Island. The reports so far have been based along the South Shore of Long Island facing the Atlantic Ocean.
A family called me on August 20
th
from one of the beach hamlets located on Fire Island- which is a barrier Island along the South Shore coast of Long Island. Fire Island is a well-known vacation area that consists of small villages of summer homes built along the thin island. The family called to let me know that they were sitting on the beach just after dark eating ice cream cones when one of the children noticed a strange light hovering over the water.
The family watched as one large round Orb of light high in the sky over the ocean hung motionless in the night sky. Suddenly with a blink of the eye another round light appeared next to the first.
A third and fourth blinked into the line of lights. They said that the objects were round and bright white with a swirling center. The lights hung in the sky for about a minute before starting to slowly move as if one object out over the Atlantic Ocean. The father said although they seemed to be moving slowly he realized that they really were moving at a great speed as they became too distant to see at all within a matter of seconds.
The family has no idea what the objects could have been or how they were able to do what they did all without a sound of any kind. The father also reported the original Orb was about twice the size of the others that developed later and that it was impossible to judge their actual size from their vantage point . He did say they were without question as large as an airplane if not bigger.
A friend of mine called from
East Hampton located on the east end of Long island also along the Atlantic Ocean to tell me about a very odd experience her neighbor had while entertaining guests on her water front deck. The party was busy making 'S- mores' (graham cracker, marshmallow and
chocolate bar melted over an outdoor grill) when they noticed an extremely fast moving orange light speeding low above the ocean that appeared to be about a mile off shore. The light was large enough to be seen but shape and exact size impossible to determine from where they were. At first they thought it was a large speed boat however they realized there was no sound at all. You can hear the speed boats at night for miles around. As they watched the light skim over the water it started to rise and lift into the night sky. The light kept rising into the night sky at an enormous amount of speed until it simply vanished into the star lit night. The people at the party talked at length about what they had just seen. The opinion of the groups is that this object came up from the ocean and skimmed the top of the ocean before making its take off.
Next an email arrived from a man who also lives on the South Shore of Long Island. This is what he reported:
"Hi Chris
"Tonight August 25
th
while swimming in my pool I saw one orange orb traveling low in the sky, no sound of engines or propellers it seemed to be about as big as helicopter. It traveled from east to west in a smooth linear direction. I couldn't say how fast but it moved slowly. The light started off yellowish and slowly became intense orange then as it started to come to the side of me (high in the sky to the south) I would say over the Great South Bay by Bellport and Brookhaven hamlet.
It then
turned a deep red and fluttered out, the object was still moving just the light turned off, there was no sound of jets or propellers and the object became black and was spherical in shape.
I just stood in my pool watching this when another orb followed this one and did the same thing.
In July my partner saw 5 spheres traveling close together from north to south then slowly disappeared one at a time he said they were only a bright orange.
This is not the first time we have seen these things. About two weeks ago I saw an orange orb in the sky distant in
the east hovering. It did not move for 5 solid minutes, and then it disappeared. Last night was by far, the most amazing experience I have had so far, because it lasted so long. It seemed like 30 min as it was such an incredible thing to see but it was really a few minutes. I was stunned by what I saw.
Thank you
CM "
Obviously something is going on off the Shore of Long Island involving these strange Orbs and the Atlantic Ocean. I will continue to report what is being told to me concerning these strange ongoing sightings of strange Orbs, lights and objects or crafts over Long Island's South Shore. I have no idea at all what they are or who is responsible for them. I do know they are being seen.
I have to wonder why so many incredible events like this occur yet only a few people report or know who to report them to. I suggest to all those who contact me that they tell someone in an official position what they have witnessed. Of course most people want to protect their identity due to the social stigma attached to reporting these things. I understand this and agree to publish what they are seeing while protecting their privacy.
I do think however if you see something you need to call your local police, or even a non-emergency number of your local Firehouse just so someone official who is linked to what may be needed in case of an emergency knows what is being seen out there. If you have a local airport report what your saw to them. You do not have to give your name and certainly can figure out how to call so you cannot be located. I do think however it is important you call one of those places.
Lastly know that there are people who have had bad encounters with strange Orbs and you must always place safety first above all else. If you see a strange Orb, object or craft retreat to a place where you are not alone and secure. That is the most important thing to keep in mind. Remember the unknown is exactly that something we do not understand or know and could be dangerous or far more than you may be equipped to deal with.
Remember safety first.
The summer is coming to an end with fall directly ahead of us. Fall has always been a high time of UFO and strange events for Long Island. With such an active summer I can only imagine what the next few months will bring.
♥
Copyright © 2008-2012 Chris Holly's Paranormal World http://endlessjrny.blogspot.com/
email chrishollyufo@yahoo.com phone 631-877-4818
http://endlessjrny.blogspot.com/2012/08/the-reports-keep-coming-orbs-long.html
*****************************************************************************
-->
About five years ago I talked to a very frightened young woman who was a North American Indian. Her family lived in a isolated part of the West in the United States on a reservation.
She belonged to a tight knit family who were very protective of one another. She was very shy and very nervous about talking to me. It took some time but I finally convinced her I would never use her name or location and would not write anything that would cause her family harm.
She then told me the story of what happened to her grandparents while they were on their weekly outing to do their shopping and errands in the town closet to their reservation and home.

She told me they were both in their late 70's. The couple had a weekly ritual of going to town to shop and do their errands making sure they were back home well before dark . They were nervous being out at night as age made driving and the long dark deserted roads from town to the reservation frightening for the couple.
This one particular trip to town was like most all other trips to town. They started off early with their beloved dog in tow. They took care of their errands and stopped for lunch at their favorite spot before packing up their truck for the trip home.

The older couple and their dog were happily driving back home along the winding deserted roads common to their part of the country. It was only 3 in the afternoon leaving them plenty of time to make it back home before nightfall.
Suddenly a small deer came bounding out of the woods and clipped the side of the old couples truck. The couple , dog and deer bounced around before the old man managed to pull off the road.
They got out to inspect the damage and found the truck was incredibly barely touched however the deer was dead. The old man his wife and dog all stood on the side of the road next to the wide open wilderness that surrounded them.

The elderly couple decided to pull out their tool box to try to butcher whatever they could of the deer so the meat would not be wasted.

The old man was busy pulling out what he needed as the woman tugged and dragged the deer off of the road . Their dog was busy sniffing around and wagging his tail rather happy with the entire event.
As he wondered about the edge of the woods the dog suddenly began barking and growling almost in a rage. Both the man and woman stopped what they were doing and called the dog over to them behind the truck on the side of the road.
The dog came running to them with his tail tucked tightly beneath him. The old couple comforted the dog . The woman heard it first , a strange noise like a low hum coming from the woods.

As the couple stood by their truck with their dog they could see what appeared to be a bright white light coming up from the ground making its way towards them and the road.
At once the couple decided to leave the deer and threw their tools in to the back of their truck. They pushed the dog into the cab of the truck between them and took off down the road. All three of them were terrified at what was coming towards them from the woods.
The next thing the couple remembers is driving into the reservation and pulling up in front of their daughters house. It was 10 P.M at night.
The family had been out looking for them and were frantic about where they may have gone. They always were home before dark and never went anywhere the family did not know about.
The family heard the old couple pull into the driveway and went running out to greet them and to find out where they had been.

The old couple seemed dazed. The old man was completely disoriented and confused. He felt weak and needed help getting out of the truck. When questioned to where they had been he seemed confused and could not answer. The old woman had been asleep. When they woke her she said her head hurt and did not know where she was. Laying across the old woman was the couples beloved pet. He was dead.
The couple had no idea where they had been or why they had lost hours of time. They were crushed to find their dog had died and had no idea what had happened to him.

The old couple told their family about the deer and the strange light coming from the woods towards the road. The old man described it as if the sun was rising from the earth and streaking across the woods towards him. The old couple were heartbroken that their dog had died and had no idea why the perfectly healthy pet died on the way home.
The couple felt ill for a few days after this event. The man had a decline in his health after this encounter .

They do not understand what happened or where they were during this lost time event.

The family does not want this made public or for the old couple to endure any discomfort due to this story becoming known in their area.
I do not know why I never wrote about this incident before. I have thought about it often but kept it on my list of things to get to until now.

I recently received a phone call and the story of this elderly couple came clearly back to my mind.
The phone call came a few weeks ago from long time acquaintance who wanted to tell me about a very odd experience that happened to her parents while they were on vacation.
It seems her parents both in their late 70's decided to go on a last minute trip to Maryland to visit old friends who were living there.
They packed up their minivan and their little dog and took off for a visit with their friends. They were leaving from New Jersey and planned to travel down the east coast via the long scenic route with less traffic and less large trucks to deal with .

They were driving along when they decided to stop for lunch around noon.

Nothing unusual took place . They ate lunch and continued on their way. The elderly pair and their little dog drove for a bit longer when they realized they needed to stop for gas.

They were now driving along roads that were lightly traveled and no longer saw many other cars.

The couple stopped for gas . Both the woman and the man and dog got out while filling up to stretch their legs and take the dog for a short walk. As they walked along the side of the gas station with the dog both of them mentioned to the other how odd and bright the sun had become.

They could barely see even though both of them had on sunglasses.

They got back into their car with the dog sitting on the woman's lap and started off down the deserted highway towards their destination. They had just entered Delaware.

They recall taking off in the car and driving along the road away from the gas station.

Hours later the couple's first memory is of pulling over to the side of the road . The man who had been driving was confused and disoriented . The woman was slumped over her seat in a deep sleep.

The man got out of the car and began to walk around the front of the car confused and disoriented. He started to call out for his wife. She heard him calling and started to wake up. When she finally was able to shake herself awake she saw that her husband was pacing back and forth in front of their van calling her name. She looked down into her lap to find her little dog limp and gasping for air.

She opened her door and called to her husband. He seemed to snap out of his pacing and ran over to her door.

The woman and the old man tried to figure out where they were. They were at a loss to what had happened to them . They both felt ill and weak. The couple was very concerned about their now extremely ill pet.
They had no idea where they were and decided to get back on the road and drive to find a sign or town .
They drove a few miles to find a sign telling them they were somewhere in North Carolina.
The couple knew that was impossible as their watches told them only three hours had passed yet they had traveled a huge distance to a place they had never been before. The little dog was barely alive.
The old couple found the next town and first veterinarian they could to try to get help for their little dog.
The vet was kind and took the old people right in to see if she could help the little dog. The vet told the old couple the little dogs lungs were filled with liquid and his little heart was failing. She could do no more but make the little guy comfortable as he was dying. The old couple was devastated.
They stayed with the dog until he passed away. They were overcome with the sorrow of losing their little pal in such a strange way.
The old couple found a motel and stayed overnight in this North Carolina town they did not know.
In the morning they still felt ill and confused. They had the body of their little dog in the back of their van and wanted only to return home where they could bury him in their own backyard.
The elderly couple knew something horrible had happened to them as they had lost a period of three hours and traveled miles of distance in an impossible amount of time ending with the death of their beloved little dog unexplained .
The trip home was long and difficult for this old couple. It took them 13 hours to cover the same distance they did the day before in 3 . They just wanted to go home.
The old couple took turns driving only stopping for gas on the way home. When they returned home late that night they called their daughter and told her of their bizarre trip.

The man in this story had a turn in his health after this trip and has been weak with many different health issues since. The woman remains frightened and confused to what could have happened to them during this strange day of events that seem to be impossible yet happened.

The old couple is mourning the loss of their little dog and do not understand at all what caused the animal to go from perfectly happy, active and wagging to limp and dying in a few hours time.
I found the similarities in both of these cases chilling. I find the accounts of both these older couples to be strange lost time events that certainly lean towards abduction.
Both couples talked of strange bright light and both couples have no memory at all where they had been or what happened to them during the missing hours.

It is not the first time I have had the death of a pet reported to me as a result of a lost time or abduction case. It may be that the transition that takes place during these events are simply something a dog or cat cannot survive. I tend to think it is lucky that both of these senior couples were returned alive and basically in one piece.
The experiences of the older couples years apart , miles apart are remarkably alike. I have not heard nor could I find any other reports as similar as these reports were to each other.
I realize that there may be many other cases like the two of these that just have not been reported . I also realize the longer I do this work that we are very limited in our knowledge to what really is going on all over the world to people on every part of our planet.
I cannot help but wonder if odd lost time events like the two I reported here are happening to the senior citizens of the world . I realize that many elderly people are careful not to report a strange event in fear that family members or society in general will consider them unable to handle being alone or continuing on as productive citizens.

They fear the reaction of the rest of the world making them more inclined to keep an incident like the ones in this article to themselves.
I feel a deep sadness knowing that there may be older people all over the world dealing with lost time or abduction without feeling they can look for help in fear of losing their freedom or facing unkind ridicule .

That is the nature of our society and we are all to blame for it. We have made these subjects a joke. We clearly decided as a society not to deal with it .

This decision has left us alone if we find we are the one looking in to the eyes of the unknown. Trust me nothing on earth can make one feel more alone.
I have only heard of two other events where pets where involved in possible abduction cases and in all of the cases the pets did not survive. I have no idea what goes on during the encounters with the unknown. I do know not everyone or everything taken is returned or survives. A sad side of the reality of the unknown but one we need to understand.
One day if we change our thinking and approach to these subjects we may understand what the truth is concerning our place in this universe. For now all I can do is report to you the encounters of those who are good enough to share what happened to them as they alone faced the terror of the unknown.
Be careful out there and always pay attention to your surroundings.

♥
Copyright © 2008-2012 Chris Holly's Paranormal World http://endlessjrny.blogspot.com/
email chrishollyufo@yahoo.com
**********************************************************************
I would like to address something today that is puzzling from more than one aspect. The subject is the way the recent solar flares, or Coronal Mass Ejections (CMEs), have affected the members of a group of people who have suffered from a lifelong experience of unexpected abductions by entities unknown. These are the people Chris Holly has dubbed the Real Time Abductees. While there are millions of people claiming abductions this group is a bit different. The real time abductees are people who while going about the normal routine of life, fully awake are taken , used and returned against their will and without their permission They know when the events start and when they are returned but have only flashes of recall to what happens during the events. They are not sleep events or encounters of telepathy or those that occur while hypnotized. These experiences have been well covered by Chris Holly as the designated spokesperson of the Real Time Abductee group she has written about over the past year. Holly was chosen for this position because she was already writing and commenting on podcast s about the paranormal, in general, and the abduction phenomenon, in particular. The fact Chris Holly is also one of the Real Time Abductees cemented the deal.
So we won't say much about the way in which the Real Time Abductees have been taken throughout their lives. We have another enigma of the Real Time Abductees to occupy us today: what is it about the biological makeup of the Real Time Abductees that not only makes them extremely sensitive to the the sun but sends some into agony, others into withdrawal and all of them into strange physical reactions that seem to be manifested when our nearest star, the Sun, goes on a rampage?
Solar storms, or CMEs, are nothing new to mankind and may have had a devastating impact on humanity in antiquity. Aboriginal tales from Australia indicate that the people of that southern continent once lived in fear of the forces that could literally scour the ground and spread death and injury to man and animal, alike. Evidence shows the aurora displays that follow such solar power displays once stretched as far south as the Mediterranean
and as far north as Australia and New Zealand. These powerful emanations from the Aurora borealis and Aurora australis may have impacted the mega fauna and even electromagnetically impacted flora and fauna "so much that new species are created"(1), something replicated in the laboratory to astonishing effect according to the book The Primeval Code (2), first published in 2007. The book tells of amazing experiments subjecting "cereal seeds and fish eggs to an 'electrostatic field' - in other words, to a high voltage field in which no current flows" that led to the creation of "primeval organisms",
according to the book's author, Luc Bürgin, quoted by Stephen Smith in an
article online at Thunderbolts.info. Bürgin goes on to describe the creations of this experiment as "a fern that no botanist was able to identify; primeval corn with up to twelve ears per stalk; wheat that was ready to be harvested in just four to six weeks. And giant trout, extinct in Europe for 130 years, with so-called salmon hooks. It was as if these organisms accessed their own genetic memories on command in the electric field..." (2)
By this time you must be asking, "What does this have to do with the Real Time Abductees?" And the answer is that with the increased output of the Sun during the current uptick in solar activity that follows an eleven-year cycle - the current increase is expected to last to 2015, peaking in 2013 -it appears the Real Time Abductees and other people, many of whom may have had abduction experiences of their own, could be adversely affected,
even deliberately so, all because they possess a certain blood classification having to do with the Rh Factor. Real Time Abductees, according to Chris Holly, all possess Rh Negative blood, and they almost all have Irish ancestry. According to Holly, natives of Ireland are the largest known group to have a preponderance of Rh Negative blood. Also, according to Holly, Real Time Abductees share an inability to wear a standard timepiece, or watch, if you
will, the devices having a tendency to quickly freeze up if they don one. It could be the Real Time Abductees have an electromagnetic effect that is emanating from their bodies and affecting their chronometers, further indication of something electrical occurring outside the normal electrical functions of the human body. Chris Holly believes that whatever was done by the real time abductees by their abductors altered them in a way that
makes them far more sensitive to many things as compared to average humans including an extreme sensitivity to the suns cycles.
So the Sun's activity is having a physical impact on a certain group of people, including, but surely not limited to, the Real Time Abductees. Those affected are experiencing everything from tingling sensations around their lips and their extremities, loss of energy, continuous pain along the body's nerve axes, diminished eyesight and hearing and other effects. Excluding the fact these people claim to have undergone abduction experiences, shouldn't
their conditions be examined by qualified scientists in the interest of medicine, not to mention the general advancement of science? Is there no plan for any group of medical diagnosticians and researchers into anomalous effects on the human condition to gently and respectfully research these people who have enhanced intelligence quotients (IQs) they attribute to their abductions, most all of whom have become high achievers?
Doesn't anyone - besides the Real Time Abductees and yours truly - want to
(1) "Electric Biology" by Stephen Smith, Thunderbolts Picture of the Day,
(2) Primeval Code, (Munich, 2007), by Luc Burgin


IF YOU ARE VISITING FROM ANOTHER LINK PLEASE CLICK BELOW TO BE TAKEN TO OUR MAIN PAGE SO CAN READ OUR SITE IN FULL





Many of you know I have been spending the last year having conversations with a group of six people who are Real Time Abductees. They are ordinary people who while going about the business of their normal daily routines where taken, abused and thrown back.
These people were fully awake at the time and taken against their will. This has been a life time ongoing problem for four of the six people in the group.
I have written other articles about my conversations with this group. I will now be concentrating on the messages the abductees singularly and as a group wish to offer for those who may be interested in what they have to say via my articles about them.
I will tell you the people in this abductee group are not like the average people we live with or encounter during our everyday life. They also are not like the average abduction reporting people found across the internet.
They do not tell fanciful colorful reports of reptile like or grey looking beings with big eyes zipping them through the night in large spaceships where all can breathe the same air while conveniently communicating telepathically. They are never asleep when they are taken and always returned ill and suffering. Not one of the Real Time Abductees have ever felt love, light or happiness after being kidnapped against their will, and returned as if a sack of wheat thrown back without concern . They are different.
The abductees are very bright and very serious about this horrific problem that has followed them for most of their lifetimes. They have been changed by what has happened to them both mentally and physically.
In this article I will write about the thinking of one abductee and her ideas on many things she sees that she finds extremely dark and dangerous for mankind.
This woman is by far the most unusual person I have ever met. She is a genius who has been given the ability to use her brain in a way that has changed her over the years. She has also benefited by this change as it has aided in her success which helps her live a secure lifestyle reducing her abductions. This advanced intelligence is the only good thing that has come from her life time of abductions.
She thinks differently than your average person which obviously is a result of what she has endured or been changed via her abductions.
Her main warning to mankind is to stop being so backwards and stunted when it comes to the unknown. She told me she is disgusted with what she sees and reads concerning the subjects of UFO's , aliens and abduction to the point she feels there is little hope for our advancement or learning in these areas due to our childish actions and thinking She told me it is the main reason she keeps what she knows within her protected family .
She often discusses with the abduction group that she feels the aliens find humans extremely stupid and view us mainly as sub standard beings with miles to go before we develop in to thinking beings.
I realize some of you may take offense to that remark . I also warned you this group will not tell you sugar coated nonsense you want to hear . They will share what they think by way of what they experienced .
The fact you may not like what they have to say is of little concern to them. They feel people can listen or not listen, believe them or not believe them. It is of no consequence to them.
They have very little interest in sharing with anyone. It took me a very long time to get them to agree on meeting and talking to me . The only reason I was able to convince them to do so is because I also am a real time abductee.
As far as this group is concerned they all would be very happy taking what they have seen, lived and know with them to their graves. They do not see any benefit for them in sharing their private hells with a vicious society that has no real interest in what really goes on to many helpless people all over the world. The fact society has rejected these people and prefer fantasy to truth is clear to this group of abductees.
They have no interest in people knowing who they are . They do not want to be famous or have their privacy invaded. Their lives have been invaded enough .
The only leverage I had in getting them to agree to let me write about them was that it may one day help some poor terrified good person who one day alone finds they too are looking into the eyes of the unknown. I was able to convince them that what they say may somehow one day may keep others alive.
Understand that past that this group of people could not care less what anyone has to say who has not been abducted in real time as they have . They are not out to win you over nor do they want you in their life in any shape or form. They will say what they have to say and that is the limit of it.
Having been able to successfully talk to this group gave me the ability to understand a great deal more about this subject then I did when handling it alone . I definitely see things differently now that I have spent time with them.
"Humans are just too stupid!." That is this woman abductees comment about the alien - UFO subject and mankind in a nutshell. She will tell whoever asks that the garbage she reads and sees concerning the UFO alien agenda is mostly pure nonsense produced by ridiculous people who have no clue at all what is what .
She realizes that fiction can be fun and entertainment is a big part and need of the human condition . She however is very concerned how lacking we are in understanding what is real from what is fiction. She feels we are not only far from knowing the truth of the universe - we are far from deserving to know.
In her thinking the aliens are delighted we are so ignorant as it makes it extremely easy for them to do what they do , when they want to do it , to whoever they want to do it to. She feels we are little more than loud smelly stupid animals to the extremely advanced species that pass by and use us at will.
This abductee understands we are being adjusted, used for biological material and altered for purposes of pure experiment that have nothing to do with our benefit. The aliens are not bothering with us for our benefit. It is strictly for their own.
Perhaps the way we test new medical techniques or drugs on mice and pigs is how we are used to test new things that will benefit their species. Exactly as we use part of a pigs heart for our benefit they may be using our DNA or our physical makeup . Maybe we are close enough in design to them to be used for these purposes. She feels sure some of us are tagged and used over and over . She simply chalks it up to the fact once they have us categorized as an animal they can use over and over just as we track and tag animals here on earth. She feels they do exactly the same thing using some of us over and over. It might be some of us are closer to them in makeup, chemistry or in some way we do not understand and more useful than other humans to them. Some humans are tagged and reused others are not.
This abductee also thinks the implant issue is not fully correct. She feels it may be possible but clearly feels that those abducted over and over no matter where they may be are walking markers. She feels the very cells and atoms that makeup those who are repeatedly taken make them easily to follow and pick up at will. They do not have implants their entire body cell by cell atom by atom is the marker they follow. It is built in to them . She feels they alter the people so every cell in their body is the marker making them extremely easy to trace and collect when needed by their abductors.
The abductee thinks they may be trying to develop us to be more like them so we too can travel the cosmos. It may be the human body is not suited well for this and they are trying to manipulate us to withstand space travel as well as they can.
There are thousands of reasons they take and use us, a thousand more why they have physically altered some of us. The one thing she is positive of is that it has nothing at all to do with any respect for the human race. We are just animals on a primitive planet in the early stages of our development.
This abductee along with the other abductees in this group all agree that they feel a few different species of aliens are involved in taking humans . It is not just one alien group it may be many . This would explain why abductees have slightly different experiences . It also would explain why the people in this group feel humans are taken by a certain type of visitor that does not return them . What happens to those taken in this way can only be harsh and should be a concern to all of mankind. Again, it is just washed away from our minds by a good movie or ridiculous paranormal TV show and life for earthlings goes blindly by.
This woman finds in particular the material she finds in the media or on the net concerning our fighting, taking over, or having control in any shape or form of our alien visitors extremely distressing.
She feels it very dangerous for humans to be so childish that they comfort themselves by writing ridiculous scenarios where humans fought, or will fight , or have taken over aliens. She thinks of this as a perfect example of our delusional thinking concerning the alien subject that cements our ignorance concerning our alien visitors.
We as a civilization are no match, none, not a chance, not a speck of a shot at ever going against those who look at us , use us, and go about their business when done . The idea we have conquered any alien in any way is strictly a big figment of our human minds. This abductee laughs when she comes across this thinking as she knows they could rid the cosmos of us in a snap of a finger. They could destroy us with a blink of an eye. As far as this woman is concerned but for the grace of god go all of us in this relationship of humans and our universal neighbors. We go as we are allowed to go, nothing more.
We are dealing with others who know what the fabric of space is, who know what dark matter and energy is, who understand the energy or the universe as well as all the physics of the cosmos and use them to travel and control what we have yet to come close to understanding . We are no match, not anywhere close to their level and as it presently stands seem to insist on staying that way.
She points out the way we limit our thinking and growth as a civilization by the hate, killing, war , and chaos of our world. We cannot find peace or stability on our own planet. We cannot figure out our energy needs or how to efficiently use our planet to sustain our population. We are good at panic, ignorant conclusions and refusal to educate and expand. We seem to be a slow moving slow witted group of beings that are really not that appealing to other beings sharing the cosmos. If we were they would have long ago become more involved with us. Face it , they are just not that in to us- why would they be?
The fact we are so destructive of not only our own planet but our own species can only be viewed with the same eyes we watch two wild animals fight it out on the African Plains.
The abductee talked about how she thinks the aliens may simply be waiting until we completely destroy our own species by way of our own ignorance. It seems to be the way of our kind.
She also remarked about our thinking and how sad it is that our civilization is so lacking that we are not able to figure out how to use our planet or grow our species. Instead she finds articles about the horror of our reaching the 7 billion mark in population. What cements our primitive views is finding reference to dealing with this population mark by discussing destroying or removing humans to a lower amount of population. She finds this very thinking the very animal level that keeps our visitors and abductors at arm's length when dealing with us.
She explained it this way to me:
" New York City is a place where the population is dense . New York City is also a place where people successfully work, live, raise families, visit cultural centers, and thrive. It is a great place to visit and for many a wonderful place to live and work.
If you took the world's population of 7 billion and placed them in the same density of those living and working in New York City they would fit into and fill the state of Texas.
Now Texas is a big state but hardly a major portion of the United States- not to mention the entire world.
Add to this the fact we have huge amounts of open land closed down to farming , or producing life giving products all over the world due to ridiculous political and economical stupidity and add in war and hate and you have a planet too dumb to find its way out of a paper bag.
Once we figure out how to handle our planet, our needs and energy requirements as intelligent beings we will figure out how to carry a far bigger population without the need to KILL off anyone ! These are the reasons we are seen as the primitive beings we actually are by our visitors "
She reminds me that our planet is only now entering its middle age years and is in the prime of its life with what is behind it in life span still ahead of it. It is not our planet that is to blame for our inability to handle our growing population it is our small minded lack of intelligence that is the problem. Once we start to think in place of jumping to stupid conclusions and work at solutions instead of fighting we may then be considered more than the savage beings we seem to presently be.
This abductee feels we will not grow beyond our present state in her life time. She also finds it very humorous that she finds so much written on the fact that we seem to be sitting here waiting for some fanciful event that will usher in a new human existence making all our problems vanish with the swipe of some world event that brings us all to a new species of human...among other similar theories.
She feels we are masters of delusion before all else and make up whatever fantasy we need instead of doing the hard work of growing to better beings. She is sure from her own journey with encounters of those far more advanced that that at best we give our visiting kidnappers a good giggle if little more. Once they have accomplished whatever it is they take or use from us - they pretty much treat us as we do mice in a lab . They throw us back until the next time they need a sample or experiment, or to see how we are doing if we are the experiment.
I listen to the abductees and see the world differently now as they talk about the unknown in a very strong clear manner. I understand how we all can trick our minds in believing what is easier to digest and less frightening when it comes to the unknown. I now know that delusional thinking and behavior is what has us the lab rats and other life forms our superiors. We stay in ignorance willingly as it is easier than advancing and changing our primitive ways.
I asked this abductee if she thought aliens were working with any of the governments of the world. Since she seems to feel we are not on the same level as our visitors I wanted to know what she thought .
She told me she did think that some of the power bases on earth were working with or contacted by other life forms visiting our planet. She told me she shy's away from talking about this subject as humans immediately jump to the conclusion we are working alongside of alien species. She feels without exception if we are aware of and involved with another species it is under the full control of the aliens. The aliens decide what , where and how our involvement will take place. We have no control over this and have no way to change this. There are no weapons, technology, known tactics or understanding in the human race that can combat, defend or have even a equal opinion when it comes to our relationship with our advanced visitors. We can do one thing and one thing only. Co- operate.
This unusual abductee feels the only message she can pass on to her fellow earthlings is to be cautious about their surroundings and try to understand that strange things happen to everyday people.
She wishes we were not so juvenile in our handling and thinking of the UFO alien subject . She told me she gave up hope for any true knowledge of other species being known any time soon after searching the internet, reading the books available and sitting through a bunch of internet paranormal radio shows. She feels we are so delusional and childish not to mention over run by total frauds throughout these subjects that it is ridiculous to think we are close to or capable of dealing with or comprehending the truth of these things.
She also told me something I felt was a chilling statement. This abductee who is clearly the most unusual person I have ever known told me that the aliens watch how we handle this subject. She fears for the large amount of people who feel it is a free pass to do, say, write, or make huge false claims concerning this subject. She also told me she senses a strange feeling that they do not like those who tell tales of abuse and abduction that did not happen and that they are aware of it and watching how we handle the subject of our visitors in such a ignorant manner . She also told me she does fear for some who may anger the unknown for personal agendas .
I have to wonder if those busy with spending hours making fake photos , fake videos or telling long involved tales of adventures with aliens that did not happen ever considered they may be watched and not in a good way by the very beings they claim to have contact with? More than that I wonder if any of the people using this subject for self agenda needs ever consider the fact they may be annoying or agitating these beings ?
As one who has looked in to the dark cold eyes of the unknown I will tell you this is not a good idea. I know better as I have had to deal with lost time , abduction and strange beings and the last thing on earth I would do would be to draw attention to myself by way of annoying these creatures by purposely not being truthful . I can only conclude those who do these things do not believe at all aliens exist or are lost in their own delusion . Otherwise they would never risk what they do in fear of angering these beings. I am lost to why humans do what they do. I can only warn not to do it.
The bottom line for this abductee to society is to wise up, stop living in fantasy and understand there is a bottomless amount of information we do not understand about the unknown and it is unwise to shut down to it , make fun of it or refuse to learn about it. She also thinks everyone needs to pay close attention to what goes on around them as anyone at any time could be the next to be called - the abductee.
I will be concluding my articles about this abduction group hopefully by the end of the year or shortly thereafter . I do hope somehow somewhere someone will be helped by our sharing what has happened in our lives while going about the business of our everyday lives. We pray it never happens to you.
♥ Copyright © 2012 Chris Holly all Rights Reserved
Chris Holly's Paranormal World-

http://endlessjrny.blogspot.com/


Email chrisholly61@yahoo.com